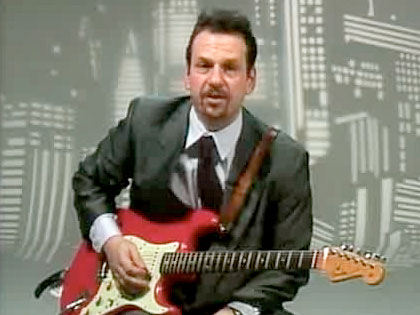 Ahh Ronnie Earl. My man!
Ya Ronnie is about my favorite blues guitarist. Why? Well he doesn't have the best chops or technique. Someone like Duke Robillard has more depth to his technique than Ronnie. But by far, he as more soul than just about any blues guitarist I know. He is also willing to take big chances in a lead and take a lead out to 10th gear. He also can take that song down to 1st gear in a heartbeat too. Ronnie has amazing dynamics.
Ronnie Earl's Story
Ronnie first burst on the scene as Duke Robillard's replacement in Roomful of Blues, the great Boston-based jump/swing blues band. He didn't start playing guitar until he was 20 so he got a late start but sure made up for lost time.
Anyway, he was born Ronnie Horvath in Queens New York in 1953. After high school, Ronnie attended C.W. Post College on Long Island for a year and a half studying American History. It was during these early college years that Ronnie first started playing the guitar. Eventually he transferred to Boston University where he would graduate in 1975 with a Bachelor's Degree in Education & Special Education. Ronnie spent a short time teaching and working with children with special needs in the Newton school system, as well as the League School in Government Center.
It was in Boston during the late 70's where he first got turned onto the local scene which included bands like Sugar Ray and Bluetones, and Roomful of Blues. He wasn't quite ready to join these bands. He still had much to learn. So he focused on learning what he needed to learn and even quit his teaching job so he could devote all his time to learning his craft.
He got professional experience playing in bands with Sunnyland Slim and Johnny Nicholas and the Rhythm Rockers and then performed on record with Sugar Ray and the Bluetones.
In 1979 he joined Roomful of Blues, replacing Duke Robillard, and began his 8 year career with them. He got to travel a lot and lived the life of a full-time musician, which unfortunately led him to drugs and alcohol.
But playing in a 10-piece ensemble band was restricting for someone with Ronnie's talent and energy so he also did side projects with his own bands and songs.
In 1983, while still with Roomful of Blues, Ronnie recorded with vocalist Kim Wilson, Darrell Nulisch and Sugar Ray Norcia, releasing Smokin in 1983 and They Call Me Mr. Earl for Black Top Records. In 1988, he left Roomful of Blues to devote himself to a solo career fulltime.
His band The Broadcasters would record some of the best blues music of the mid 80's and his albums Smokin, They Call Me Mr. Earl, Soul Searching, and Peace of Mind are some of his best work. And his playing with Nulisch, Norcia, and Kim Wilson during this time is some of my favorites and certainly Ronnie Earl's high-water mark. I have many of these tunes in my own repertoire to this day. The CD Test of Time has a "best of" from this era and never leaves my cue on my iPhone. Ronnie is still the biggest inspiration I have, and whenever I want to play better I just listen to him for awhile. Unfortunately these CDs are very hard to find. I couldn't find any of them on Amazon. And the few I found online were selling for top dollar (over $30).
Anyway…
Throughout his solo career Ronnie always had amazing bands. His bands included the vocalists above plus Steve Gomes, Rod Carey and Mudcat Ward on bass, David Maxwell and Bruce Katz on keyboards, and John Rossi, Neil Gouvin, and Per Hansen on drums. Whenever I want to show my band-mates how it's done, these are the musician's I play for them.
Back On Track
Ronnie kicked his drug and alcohol problems in the early 90's and now leads a very peaceful and spiritual life in New England. He doesn't gig or travel much but is sometimes found playing in the clubs around New England or sitting in with great bands as they come through town. You can catch up with the latest on his website here.
Ronnie Earl Influences
Ronnie names guitarists T-Bone Walker, Otis Rush, Magic Sam, Guitar Slim, and Wes Montgomery as influences. As well a Jimmy Smith, Thelonious Monk, and John Coltrane. I'd also add Duke Robillard as an unnamed influence naturally.
It's easy to see he has molded all of these styles into something that is all his own. I can tell Ronnie Earl's playing within seconds of hearing him. His tone and his licks are all "Ronnie Earl" and that kind of signature sound is the hallmark of what makes a great guitar player.
What People Say About Ronnie
"I feel the respect and affection for him that a father feels for his son. He is one of the most serious blues guitarists you can find today. He makes me proud." ~ B. B. King

"Perhaps the finest living blues guitarist on the planet." ~ The Boston Phoenix

"Ronnie Earl caresses the strings with utmost sensitivity one moment, alternately following it by a cluster of hard-edged riffs." ~ Gary Tate/LivinBlues

"Hope Radio shows the genius of Ronnie Earl & The Broadcasters." ~ Living Blues

Hope Radio is a "Roomful of Ronnie." A "live-in-the-studio masterpiece" where "Earl reimagines the emotional possibilities of the guitar." ~ Hal Horowitz

"He has released some twenty albums – but Ronnie Earl can still take your breath away."~ Guitar Player Magazine

"When it's time for spiritual rejuvenation, it's time for a visit from Ronnie Earl, pastor of the church of tone." ~ Eric C. Shoaf, Vintage Guitar
Ronnie Earl Equipment
Over the years Ronnie has pretty much stuck to playing Stratocaster guitars. He occasionally has played Gibson's, but most of the time you'll see him with a Strat in his hands. They are mostly old vintage ones as far as I know. He talks a bit about his current views on equipment in this article on his website.
For amps he uses mostly Fender amps. In the early days he used a lot of Twins but has also used others models as well. Currently he uses Super Reverbs exclusively. No pedals or anything between the guitar and the amp. Like Ronnie says in the article above. "I'm not an equipment person in the least." That is as long as it's Fenders.
Ronnie Earl Instruction Videos
You can find some instruction videos on this page.
Some Videos
Moanin
T-Bone Boogie
Blues For The West Side
Akos
I Smell Trouble with Javina Magness (Ronnie was in the audience and was asked to sit in)
Robert Nighthawk Stomp from 1994 (This is smokin and one of the few times you can get to see how he plays this song)
Slow Blues from 1994 (video quality bites but sound and performance are great)
Blind Love (I could listen to Ronnie play a shuffle all day long. This isn't live but I still love it)
Click To Watch A Free Lesson