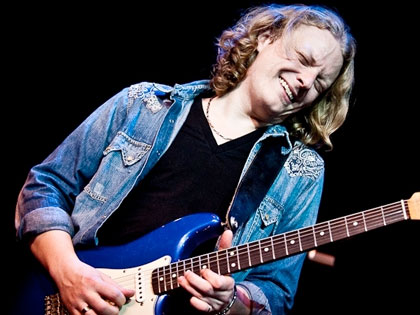 Caught a great new blues guitarist at The Sunshine Blues Festival in St. Petersburg on 1/20/13. Ok I admit I'm late to the Matt Schofield party. He's been around for years but I managed to not to get hip to him until this concert. Sorry but I'm fully engaged now.
Schofield definitely falls into the type of blues guitarist that I like. He's a bit jazzy but still plays some solid blues grooves with energy and power. He reminds me a lot of Robben Ford. Doesn't sing quite as well, but has a better guitar sound in my opinion. I love Robben Ford but his guitar sound is a bit too processed for me.
And yes, harmonically he does get into that advanced diminished scale sound that Robben Ford plays a lot of. Watch the videos and you'll see what I mean. In fact his song "I Don't Know What I'd Do If Wasn't Loving You" on Video 2 from the Sunshine Blues Fest vids here, reminds me a lot of Robben Ford's "Start Me Up." Same groove and a lot of similar diminished scale licks.
Background
I guess he's been a pro for over 20 years but only started to record with his band in the early 2000's. His first album, The Trio Live came out in 2004. He's had 6 albums since then and this young guy (he's only 35 here in 2013, born August 21, 1977, Manchester, England) has a bright future in front of him. He's already won several awards including…
British Blues Awards Guitarist of the Year 2010 & 2011
Mojo Magazine Blues Album of the Year 2011
British Blues Awards Album of the Year 2010
And had these great review quotes…
"In Schofield, the UK has produced the best blues guitarist from any country in decades." LA DAILY NEWS, USA

"Another level altogether." MOJO

"The best of his generation's European players. His feel for the music is incredible." VINTAGE GUITAR, USA

"Top ten British Blues guitarists of all time." GUITAR AND BASS

"The UK's most exciting blues guitar player." GUITARIST
He's touring extensively now and plays all over the world according to his website. He's British and will be heading back there in March 2013 after a tour of US.
Although Robben Ford is clearly an influence, Scofield claims to be also influenced by B.B. King, Freddie King, Albert King, Muddy Waters, Eric Clapton, Albert Collins, Jimi Hendrix, Billy Gibbons, Stevie Ray Vaughan and Jimmie Vaughan. What major modern blues guitarist isn't influenced by this group? And yes you can hear a touch of each of them in his playing.
His Band
Matt plays in a 3 piece band but he uses instrumentation that is a bit different and much like Jimmy Vaughan sometimes uses and Albert King used occasionally. His Hammond B3 player plays bass as well.
Where some B3 instruments actually have bass pedals as part of the setup, Matt's keyboard player Jonny Henderson, uses a second keyboard/synthesizer for bass. So even though his band is a 3 piece it sounds like a 4-piece band. This gives his sound a bit more interest to me. And Henderson is solid at both B3 and bass so he adds a strong core sound for the band. And Henderson has been playing with Matt for a long time… since 2003 or so.
His new drummer, Perry Morris replaced long-time drummer Evan Jenkins when he moved on to play with jazz man Neil Cowley. Morris is young and solid yet still seems to be learning the material a bit. Couldn't find much on Morris' background online.
Gear
Matt uses custom stuff that is not cheap for "on the road" these days. But for years he played a 61′ Fender Stratocaster and a 64′ Fender Super Reverb. He's basically a Fender guy with Strats and Super Reverbs as his base sound. But his vintage guitars and amps don't travel well so he switched to guitars made by SVL and amps made by Two Rock, an American Company. He keeps the vintage stuff at home and takes the new stuff on the road. You can read all about his equipment on his website here.
So if you like your blues on the "progressive" side a la Robben Ford or Joe Bonamassa, with a touch of jazz scales, but still want some juice and energy, you may like Matt Scofield. Here's a selection of  live videos from his YouTube channel to give you a taste of Matt. Live videos from most of his set at the Sunshine Blues Festival here.
Click To Watch A Free Lesson