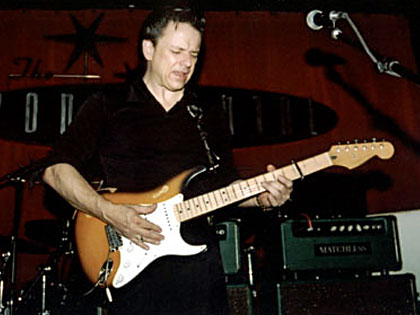 Jimmie Vaughan, as you may know, is the older brother of Stevie Ray Vaughan. He never got as famous as his younger brother, but in many ways I find his guitar playing more satisfying. Especially his early playing with the Fabulous Thunderbirds.
He is in the classic Texas Blues tradition that was pretty much made popular by The T-Birds and earlier Texas blues guitar players like Freddie King. But this Texas style is clearly evident in both Stevie Ray's and Jimmy Vaughan's playing. They really are the ones that "wrote the book" on that style and made it popular. Other great Texas blues guitarists that epitomize this style include Anson Funderburgh, Johnny "Guitar" Watson and Clarence Gatemouth Brown, among many others.
There are still many other great Texas blues guitarists, but they don't really exemplify the style that I'm talking about here. These include Johnny Copeland, Lowell Fulson, Albert Collins, T-Bone Walker, Lightnin' Hopkins, and Johnny Winter.
The Early Years
And as much as I am a fan of Jimmie's playing now, clearly his early days with the Thunderbirds were much more powerful and interesting. Who wasn't at their best in their 20's and 30's. Watch the live video from Rockpalast below and see if you don't agree.
And The Fabulous Thunderbirds back in those days (I'm talking about the late 70's and early 80's) was also at the top of their game. The band was Vaughan on guitar, Kim Wilson on harp, Keith Ferguson on bass guitar and Mike Buck on drums. This is the best version of the band clearly. But they never got much popular recognition and their records never sold very well. You could argue they were ahead of their time.
Before Jimmie formed the Thunderbirds he played in many bands in the Austin area. In 1969 in Fort Worth, Vaughan's band opened for The Jimi Hendrix Experience. Vaughan lent Jimi Hendrix his Vox Wah-wah pedal. Hendrix broke it, and gave Vaughan his touring Wah pedal. More details of this period can be found on Jimmie's website here.
One of the early Austin blues men was W.C. Clark, who was sometimes referred to as "The Godfather of Austin Blues." In the 1970s Clark formed several Austin bands with various names, which included as members Jimmie Vaughan, Stevie Ray Vaughan, Lou Ann Barton, Billy Gibbons (Z.Z. Top) and Angela Strehli.
Jimmie formed the Thunderbirds in the mid 70's with Kim Wilson and released four albums between 1979 and 1983. They never sold well as I mentioned.
Jimmie Vaughan left the band in the late 80's to play with his brother. Unfortunately Stevie Ray died within months of this new project. He since has had a solo career with various bands of his own that he formed. Jimmie Vaughan is still active today and can be seen at many of the blues festivals around the world. He also often sits in with other artists.
Vaughan's Influences
A significant influence on Jimmie Vaughan's style was Freddie King, who advised him personally back in the early years. Other significant influences include Albert King and B. B. King; as well as from Johnny "Guitar" Watson.
The Texas style of blues, as played by the Thunderbirds, borrowed heavily from Texas rock and roll as well as Chicago Blues along with the styles of Slim Harpo and Lazy Lester. They managed to forge the music into a very identifiable style that combined all of them. The video below from 1980 really shows that style in fine form.
For a more complete bio check out Jimmie's website here.
Equipment
Jimmie Vaughan is clearly identified with the Stratocaster guitar, much like his brother. He also played through Fender amps until later in his career when he started using Matchless amps.
His Fender amps included Tweed Bassmans in the early years and then he switched to Super Reverbs, which is what can be heard on the video below. He was also known to play Twins.
As far as pedals it does not appear that Jimmy ever used any pedals. On the video below he clearly does not use any. The Tremolo for Scratch My Back comes from the Super. Today according to his current guitar tech, the only pedal he uses is a Boss Tremolo pedal.
Since 1997 Fender has produced a Jimmie Vaughan Signature Strat. This guitar is made in Mexico with American made parts. The pickups are hotter than standard Strat pickups. You can learn more here.
Here's a site with a video of an interview with Jimmie's guitar tech. It shows that Jimmie currently (1212) uses a custom Grammatico amp that is based off of a Fender Bassman. He also uses a Boss Tremolo for that sound now.
Fabulous Thunderbirds Videos With Jimmie Vaughan
Click To Watch A Free Lesson