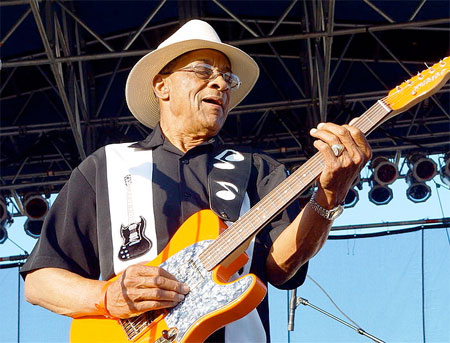 Hubert Sumlin was the long time guitarist for Howlin' Wolf. He played with him for most of Wolf's great hits like Smokestack Lightning, Back Door Man, Killing Floor, and Spoonful, as well as many others.
Hubert was one of the creators of the blues. He didn't copy anyone else but was there when the blues began, particularly Chicago-style blues. But like so many others, he got his start, and originally met Wolf in the delta area.
Hubert Sumlin was born in Greenwood, Mississippi, but was raised in Hughes, Arkansas. He got his first guitar when he was eight years old.
Sumlin first met Howlin' Wolf when he was a boy by sneaking into a performance. He was often known as "Little Hubert" even years later (see the video below).
Hubert and Sunnyland Slim video of American Folk-Blues Festival about 1963. Willie Dixon on bass. Introduction by Sonny Boy Williamson.
When Wolf relocated from Memphis to Chicago in 1953, his long-time guitarist Willie Johnson chose not to join him. When Wolf first got to Chicago, he hired Chicago guitarist Jody Williams. Then in 1954 Wolf invited Sumlin to relocate to Chicago to play second guitar in his Chicago-based band. Williams left the band in 1955, leaving Sumlin to be Wolf's guitarist for the rest of his career. (except for a brief spell playing with Muddy Waters around 1956).
According to Hubert, Howlin' Wolf sent Sumlin to a classical guitar instructor at the Chicago Conservatory of Music for a while to learn the fretboard and the right scales. Sumlin played on the album Howlin' Wolf, also called The Rockin' Chair Album, released in 1962. It was named the third greatest guitar album of all time by Mojo magazine in 2004.
Here's the track list for that album…
Side one
"Shake for Me" – 2:12
"The Red Rooster" – 2:22
"You'll Be Mine" – 2:25
"Who's Been Talkin'" (Howlin' Wolf) – 2:18
"Wang Dang Doodle" – 2:18
"Little Baby" – 2:45
Side two
"Spoonful" – 2:42
"Going Down Slow" (St. Louis Jimmy Oden) – 3:18
"Down in the Bottom" – 2:05
"Back Door Man" – 2:45
"Howlin' for My Baby" – 2:28
"Tell Me" (Howlin' Wolf) – 2:52
Now that's a list of some classic blues songs.
Here's a great slow blues with Hubert and some very cool pictures.
Hubert had some solo recordings of his own, but his personal career never really went anyplace. He has always been best known for his association with Howlin' Wolf.
Sumlin had a close relationship with Keith Richards and Mick Jagger of the Rolling Stones. Keith and Hubert spent a lot of time together, particularly when they were both healing from health issues, Keith after his fall from the coconut tree, and Hubert after losing a lung and heart surgery.
"Keith's a wonderful person, they all are," Hubert said. "Came to my rescue wwhen I was sick, the band paid all my bills. I was in bad shape at the time and I can's say enough good about them."
When Sumlin died in 2011, Keith and Mick paid all the funeral expenses.
In fact, one of the great albums that influenced us "white" blues guys, was the album Howlin' Wolf London Sessions. That album introduced Howlin' Wolf to many American music lovers, primarily because Eric Clapton, Steve Winwood, Ian Stewart, Bill Wyman, and Charlie Watts played on it. Word is Eric Clapton refused to do it unless Hubert Sumlin was also included in the project.
His Legacy
Thank goodness we have the recorded legacy of all that Hubert Sumlin has brought to the blues. The blues is far richer thanks to his contributions. Here's some great videos where you can learn more about Hubert Sumlin and what he has meant to the blues.
Humbert Sumlin Tells His Story
>/p>
Hubert Sumlin Teaches Smokestack Lighting
Hubert Sumlin Teaches and Talks About His Style
Click for a Free Lesson
Click To Watch A Free Lesson