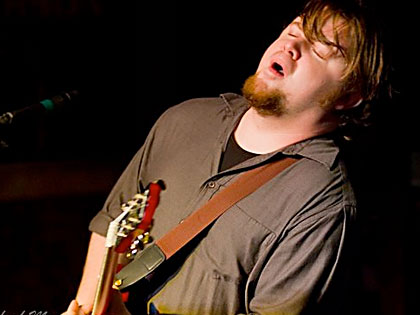 Damon Fowler is a Tampa Area blues guitarist. It's hard to believe he's now past 30. I first met him when he was still in his teens and a young prodigy of the blues. What I remember from that first introduction by Tampa blues legend John Puhl, was what a nice kid he was. So between his gentle demeanor and John's stamp of approval, I knew the kid would be going somewhere in the future.
Fast forward about 18 years and now Damon is rated as one of the top new blues guitarists in the world. Here's an article rating him as one of the 6 top blues artists to watch.
He's got several albums to his credit now and was signed by Blind Pig Records in 2008, joining most of today's blues legends on a great label. His second album, Devil Got His Way is highly rated by some "Best of…" ratings this year. Here's one review.
In addition to his own band he's also part of the super group Southern Hospitality, one of the best new roots/blues bands around. More on that later…
And of course it's great to see The Blues being carried on by the younger generation. It just goes to prove that the blues will never die. And with great blues guitarist like Damon coming up the blues will be safe for years to come.
Here's how the bio on his website describes Damon Fowler:
"With his hybrid of roots rock, blues, and sacred steel, Florida native Damon Fowler started wowing audiences with his musical exploits as a teenager, building a reputation as one of the hottest young players on the scene. Adding songwriting and vocal skills to his repertoire over the years has brought him many accolades, with critics extolling his originality and maturity as well as his technical guitar expertise. In last year's "Best of Tampa" poll, Creative Loafing magazine named him "Best Guitarist… And Slide Guitarist… and Lap Steel Player… And Dobro Player."

Sugar Shack, Damon Fowler's Blind Pig Records debut showcases a fresh and exciting rising star at the height of his powers as a performer and writer. Damon's sparkling original compositions pair perfectly with well-chosen cover tunes from Billy Joe Shaver, Merle Haggard, and the Amazing Rhythm Aces. And Damon's soulful vocal delivery and instrumental prowess continually excite and delight. He said he was honored and excited about working with Blind Pig, noting that he's looking forward to furthering the blues tradition by "making roots music for my generation as well as for generations to come." Scott Cable, renowned for his work on Blind Pig's acclaimed comeback album by Nappy Brown, served as producer.

Fowler's guitar work has been compared to Johnny Winter and Jeff Beck, while his slide guitar has a hint of the late Duane Allman. He can play fiery guitar runs with the best of them, but it's his lyrical work on lap steel and Dobro that makes him stand out among the legions of guitar heroes.

Sugar Shack's producer Scott Cable remarked at the end of the sessions, "Working with Damon, I really understood why so many people are in his corner. He is talented, bright and just a very gifted artist without all of the usual ego and weirdness that sometimes accompany someone so talented. Catching someone like Damon on their way up is a refreshing experience."
To read more you can visit his website here.
He travels the country now playing blues and roots rock festivals and thankfully he still occasionally plays the Tampa Bay area. Here's some videos from Damon. At the bottom you'll find some videos from a recent performance at The Palladium in St. Petersburg Florida. This is a rare treat at the intimate Sidedoor room at The Palladium. It let's Damon show a bit more of his sensitive and lyrical side. The young man can do it all.
And Damon is in another new band as well. Southern Hospitality is a "super group" with J.P. Soars, and Victor Wainwright. This new band could win New Blues Group of the Year… I bet they do. They also got signed to Blind Pig Records.
Here's a video of them… check out this concert they did at a local venue The Palladium Sidedoor. This video came out great if I do say so myself!

Click To Watch A Free Lesson