The guitar was there when blues began…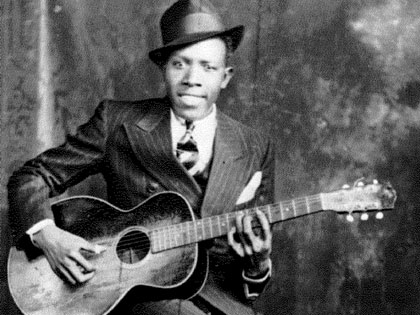 Have you heard the story of when W.C. Handy first saw some "lean, loose jointed negro" while waiting for a train in 1903 at Tutwiler, Mississippi, playing "the weirdest music I ever heard." This was some early evidence of "blues music" as it would later become known. He goes on to say… "As he played, he pressed a knife on the strings of the guitar in a manner popularized by Hawaiian guitarists…" indicating the early use of slide in blues guitar style, which dominated early "country blues" as it would be known.
The singer repeated the line "Goin' where the Southern cross' the Dog" three times. This was a new musical form for Handy who was an experienced musician and led the Mahara Minstrels, a conventional orchestra in the Clarksdale MS area and who was a college-educated musician.
Of course this music was played on guitar before this and evolved even after W.C. Handy wrote his early blues songs, Memphis Blues and St. Louis Blues. His blues songs were of a different style than the down-home Delta players that played the blues in a more authentic, almost folk style. But he did help popularize the blues music form and bring it a bit more uptown.
Early Delta Blues
And this style of blues called Country Blues or Delta Blues has a lot of slide guitar playing in it. Yes Charley Patton, Robert Johnson, Son House, and later Muddy Waters all based their playing around slide guitar. This was in the 1920's when word began to get out about these players and vinyl records became popular with rural black people. The music was spreading and evolving, as all music does sooner or later.
And if you're someone who likes history, the blues has a rich history you can follow and the blues guitar along with it. Great books like Deep Blues by Robert Palmer, and The History of the Blues by Francis Davis will go into great detail about how and where the blues was played and by whom.
You can learn about the first guitars that were often bought from a Sears Roebuck's catalog. Or more commonly, built by the musicians themselves. Where there's a will there's a way.
But this is not a history lesson. Even though it does seem that sooner or later, if you love the blues, you want to learn more about how it began. You discover that Eric Clapton loved Robert Johnson and got much of his music from him (Crossroads for example). So your love of Eric Clapton leads you to want to explore Delta Blues and Robert Johnson, and so it begins. The love of the blues leads you from the present into the past and back again. It's only natural.
The Blues Gets Handed Down
That's how it was for me and many of my fellow blues musicians. As we played and learned more about the rock music we loved, we were drawn back into the past where it all came from. And we often discovered, to our surprise, that the old masters were better than the blues heros we had now. They played it right. Partly because they invented it, but also because the music came from a deep place inside them that was real and painful and very creative.
And so the blues gets handed from generation to generation and from guitarist to guitarist and from culture to culture. I never would have known of T-Bone Walker or Magic Sam if I hadn't heard Ronnie Earl talk about them with utter reverence. My love of Ronnie Earl led me to my new love of T-Bone Walker, who also inspired B.B. King and even Chuck Berry. It goes on and on. And we have new sources of inspiration and new licks to learn for years to come.
If you're looking for inspiration you can find it in books, but I find it far better to hear it and watch it and learn about the playing and feeling behind it as directly as possible. That's what has kept it alive and driven so many people to pick up the guitar, or if they already played, to learn to play the music and explore more about how it's played when played right.
Whether you like the acoustic country blues of Keb Mo, or the hard-edged rock and roll blues of a Walter Trout, or the jump blues of Duke Robillard, you can find plenty of today's blues musician's who have taken the past and turned it into the present. They've learned from the old masters but have then taken that music into the present and added their own souls to the music.
That's what I find exciting. The old music made new and watching it continually evolve. If you want to listen to the past, there's plenty of places to find it. But if you want to take the pulse of where the blues is at today you can do that too. We'll try to give you a little of both… the past and the present.
But the goal will always be to grow your appreciation of the blues AND to help you improve your own playing and understanding of the blues in the context of today. This is what will take the blues forward and keep it evolving and growing. And maybe you'll pick up some new blues guitarists to love along the way.
This Is A Great Video Of The History of The Blues
Click To Watch A Free Lesson