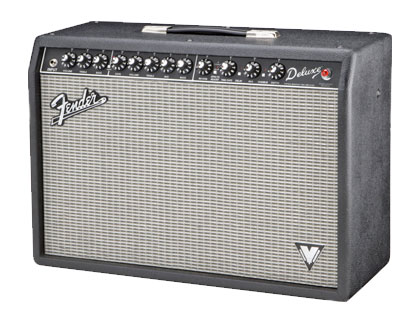 The Deluxe VM is one of Fender's takes on a modern amp. It has lots of great features that would seem to make this amp a no-brainer. It's loud enough for almost any situation. It has that great Fender clean tone. It has DSP effects built in and totally controllable from the front and via footswitch. It's light (40lbs). And it has a separate channel for overdrive.
I bought it hoping it would be a louder version of the Super Champ XD I have and love. It's not. It doesn't have the variety of tones. But all the reviews I've read indicate people love it.
I guess I'm just not sure about this amp. I go back and forth. I plugged into it the other day and it sounded great.
I guess it's one of those subjective things. I've never really taken it out to a gig or used it in a club, so it may not have been given a real chance. I plan to use it more and give it another chance. When I read all the great reviews I think maybe I misjudged it. We'll see. It does have a lot going for it.
Anyway…
Here's a video that will give you an idea what it sounds like.
Greg Koch Does An Interesting Sweetwater Video (he loves it)
,/p>
After watching this video I almost wanted to keep the amp. Hmmmm?
Features as per Sweetwater
The Deluxe VM amplifier is a member of Fender's new Vintage Modified series. With it, you get the time-tested FENDER® Deluxe formula bolstered with Fender's modern effects technology.
This 40-watt tube amplifier features a high-quality DSP platform, giving you access to reverb, chorus, and delay effects – so you can dial in a range of sounds.
The Fender Deluxe VM is also a portable 1×12″ combo, so you can easily put those tones in the back seat of your car and bring them to the gig.
There are two channels – Clean and Drive – on the Fender Deluxe VM.
Specs:
40-watt tube amplifier
1 x 12″ Celestion G12P-80, 8-Ohm speaker
2 Channels: Clean and Drive
Clean Channel Controls: Volume, Treble, Bass
Drive Channel Controls: Drive Switch, Gain, Volume, Treble, Middle,
General Controls: Bass, Reverb, Effects Adjust Switch Time/Rate, Delay Switch, Mix, Chorus Switch, Depth
Onboard DSP Effects – Digital Fender Reverb with level control;
Chorus/Vibrato with controls for Rate, Depth, and Mix;
Tape-emulation Delay with controls for Delay Time, Repeat, and Mix
Black Textured Vinyl Covering with Silver Grille Cloth
Includes a Cover and 4-button footswitch (Drive, Reverb, Delay, Chorus)
Tubes: 2 x 12AX7, 2 x 6L6
Dimensions: 17.5″ H, 24″ W, 10″ D
Weight: 40 lbs.
Reviews on Musicians Friend
"I love this amp. I have several other amps, but for that old time fender sound with a celestion speaker this amp is my go to, for travelling around. It has built in delay, reverb and chorus and a clean and dirty channel all selectable from an included 4 button pedal with a long (25′ ?) cord. It sounds fantastic from the single 12″ speaker and gets plenty loud. I love the tone and not having to carry a pedal board when i just got to a buddy's house for a couple of hours or do a small gig. I gave it an 8 because I have had fender amps with a little nicer tone, but for an all in one tube setup, this is pretty great."
Click To Watch A Free Lesson