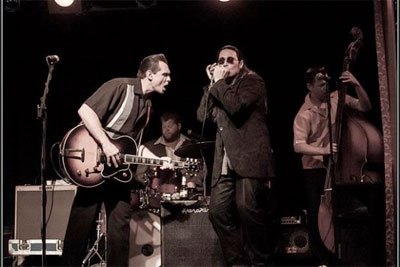 Caught a local band recently at the Suncoast Blues Society Birthday Party. One thing I love is hearing a rhythm and blues band that plays the blues authentically. By that I mean they have a great sound that captures the correct style of the music they are playing. Doug Deming and the Jewel Tones do that in spades.
And to call them a local band is a disservice. They live in Bradenton Florida but tour nationally though Doug is a Detroit native. And Doug has played with some blues heavyweights including The Fabulous Thunderbirds with Kim Wilson, Lazy Lester, and Chicago great Johnny "YardDog" Jones. So this guy has played his dues.
Doug Deming plays guitar and switches between a strat and Gretch hollow-body. He plays through a Fender Bassman and a Fender reverb. I have no idea the vintage of each but it all sounds great. You can tell he goes for that authentic swing/jump blues sound of T-Bone or Hollywood Fats.
The band is authentic sounding too with Andrew Gohman on stand-up bass and that restrained simple drum style required for great blues played by Devin Neel. This is a great blues rhythm section.
And sitting in on this gig is the amazing harp player Dennis Gruenling one of the best blues harp players around today (according to my harp playing friends). He seems to be playing a lot with Doug so maybe this will be a permanent thing. We can hope!
This first video is him and the band playing an old Wynonie Harris jump tune called Don't Roll Those Bloodshot Eyes At Me. He does it justice and then some. There's some back-alley slow blues on this video at the end.
This second video is an authentic 50's rock and roll song ala Chuck Berry. An original I think called Tonight Is The Night.
If you want to hear more go to his website www.dougdeming.com.

Click To Watch A Free Lesson