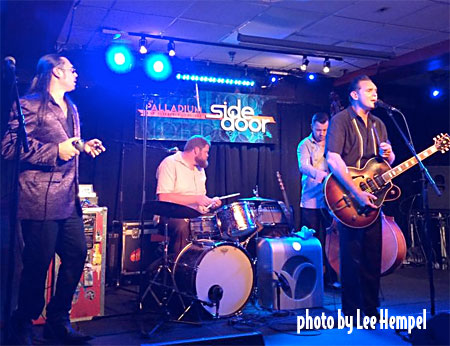 One of my favorite venues to see a live band is The Palladium's Sidedoor in St. Petersburg, Florida. It's a small, intimate venue with great sound and only holds about 100 people. When I heard one of my favorite blues bands, Doug Deming and the Jewel Tones were playing there I knew I was in for a treat. And boy was I right.
If you are not familiar with the band it's time to "get hip". Doug and his band were the winners of the Sean Costello Rising Star award this past year from Blues Blast Magazine. They are clearly one of the great authentic blues bands in the country now. And we are lucky enough to call them our own now that Doug has relocated to the west coast of Florida from Detroit.
Doug has been on the scene for quite awhile and has backed up many of the greats including Kim Wilson, Lazy Lester and Gary Primich. He really only got his own band going in the last couple of years. You can learn more about his band on his website here or see some videos on my page about one of his shows here.
The Palladium
One other great thing about The Palladium is the quality of the video I make. The sound and the lighting are just right, and if I can get a good spot to put up my camera the results are usually stunning. Take a look at these videos from a Southern Hospitality show a while back.
So this night was now exception. The videos came out great, particularly the sound, and I think you will enjoy great videos of a great band.
The Band
Every time I see the band they sound better and better. Bass player Andrew Gohman, who switched from guitar to bass to play with Doug, is the epitome of what a great jump, West Coast blues bassist should be. He's authentic and simple and provides the driving wheel behind the sound. Plus he's a blast to watch.
Devin Neel on drums is just as awesome. Simple when he needs to be and powerful when the song calls for it, he also knows how to play this style of music correctly. Someone taught him well. Or maybe he taught himself. At any rate he is a joy to behold.
Dennis Gruenling is in many ways the star of the show. As far as harp players go, he is in the very top-tier. Ask any knowledgable harp player who the best harp player around is, and they would often name Dennis. Not only is he a great player but he's a great showman too. The videos below will show what I mean.
And of course there's Doug Deming himself. Clearly a guitarist's guitarist, Doug balances great chops with super energy to create guitar parts that show his knowledge of past great players (like T-Bone Walker, Charlie Christian, and Hollywood Fats), as well as adding his own thing to the mix. Clearly the band is his vision of what a great West Coast swing-jump blues band should sound like. They succeed on all levels. The authenticity of the band always blows me away.
And you may not be able to tell from the recording, but the band plays very softly compared to most bands. This gives them a sensitivity and dynamic range that are really hard to describe unless you experience it. The bottom line is these guys really know how to play.
But enough talk. Check out these videos of a great band on a great night. I got the whole night and both sets. Yes!
Enjoy!
Set 1
Set 2
Click To Watch A Free Lesson