Lowest Prices Of The Year at TrueFire.com
Here's a video that explains the details. Click here to learn more.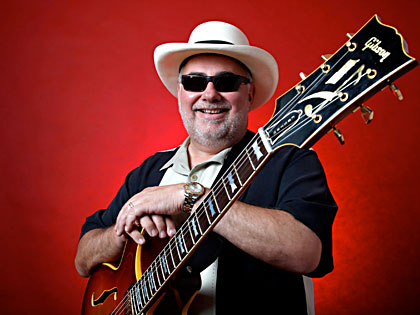 Whether you're a new blues guitarist, or have been playing for 30 years, you want to learn new things. Learning blues guitar is really a never-ending process.
So how do YOU like to go about getting some instruction?
Of course you can always go find an instructor in your local area.  Sometimes it's hard to find someone who understands the type of blues you want to learn. If you are a beginner, that's not as much of a problem.
But if you've been playing a long time, and want to learn, say some jump blues chops, ala T-Bone Walker, Ronnie Earl or Duke Robillard, then you might have a hard time finding someone locally who can teach that style.
The answer then is to get some instruction DVD's or take some online lessons.
The best site I've found for great video and online instruction is TrueFire.com. They've got tons of online videos and DVDs for blues lessons like…
West Coast Blues
Blues Rhythms You Must Know
Blues Survival Guide
Blues Jam Survival Guide
Texas Shuffle
…and many more
I counted over 45 classes just on the blues. And if you're ready for some jazz or are into other styles, they've got em' I promise. Take a look here.
Here's some samples…
The Truefire Overview Video
Robben Ford On Chords
Great Stuff huh?
And if you need something a bit more basic check this one out…
I love the TrueFire lessons. Heck I can't even play a lot of the stuff yet, but it's fun just to listen to see how it's done and get inspired about where you can go when you are ready.
And all the instructors are first class. And the videos themselves are first class too. Multiple cameras, and great sound and backing tracks.
I dig it a lot. And I pay only $15 per month to watch all the complete courses on the site. It's really worth it. And you can also buy the DVD's if you want something a little closer to home.
If you're ready to check it out please use this link. I make a little commission if you end up getting a subscription. It's much appreciated.
If you'd like to make a little money promoting TrueFire too, you can use this link to learn more.

Click To Watch A Free Lesson