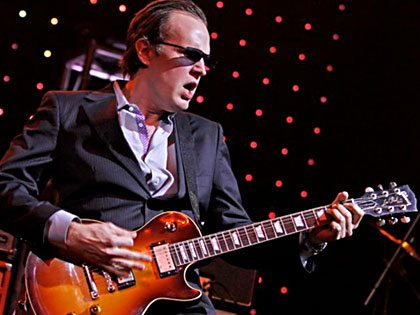 Joe Bonamassa is a technical monster on guitar. He can play fast and he can play intricate. He knows all the chords and all the scales.
But when it comes down to it, it's his soul that comes through in his playing… or not.
Learn more about Joe on this page. You can visit his official site here.
I like his playing myself. Sometimes he's a little too busy and plays too many notes for my taste. But he does have plenty of soul in his playing. Personally I think he will change over time and become a very tasteful player. He's still a young guy, sowing his oats now. Let's see how he progresses as he matures. I suspect he will be like a fine wine and get better with age.
But for now, his playing is hot and heavy, and it's keeping the blues alive for a new generation. That's always a good thing. After all, that's what we all wanted to do when we were in our 30's like Joe is.
Anyway…
Here's some Joe Bonamassa instruction videos for you. He does not do anything very unique. He's using mostly all pentatonic scales as he mentions in the first video below. More about those scales here.
He comes from the Blues Rock style and you can hear those influences in his playing. He gets most of his licks and tricks from the greats like B.B. King, Eric Clapton, Jimmy Page, Stevie Ray Vaughan, Robben Ford and Eric Johnson. If you learn their styles, you'll be learning his style as well.
Joe Bonamassa Lessons
Lesson – Guitar Influences – Technique
More
Even More
Click To Watch A Free Lesson