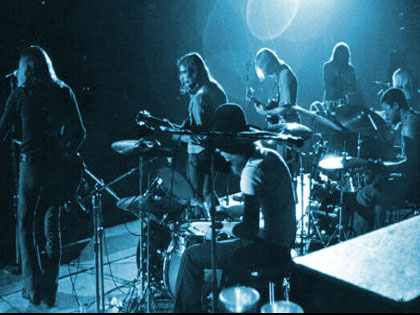 One of the best ways to learn to play with other people is to go to a blues jam. It's a chance to play with better musicians and to see exactly what it takes to be able to play onstage. If you can be successful in a jam situation you are ready to play out and get hired by a band or start your own band.
Where Are The Jams
Depending on where you live you might find many blues jams available to you. Where I live in the Tampa Bay area, there are 3-4 blues jams a night that I can choose from. And that's just within about 15 miles of where I live. And these jams run the gamut from very casual to well structured with top local players and high expectations. You can find one that is right for you if you look around.
A good place to look is in your local entertainment section of your news paper or if you have a local blues society, I'm sure they would know and have it listed. You can also go to the local music store and ask around. They'll know where the blues jams are and might even have some employees that know the scene well.
But there are some things you should know about blues jams before you go. If you show up expecting to fall right in you may be disappointed. And worse yet, if you do the wrong things it may jeopardize your credibility for going to jams later. Just remember the Golden  Rule and you'll be fine.
Here's a video from TrueFire.com that explains what you should know about going to a blues jam. Click here if you'd like to learn more about this video.
How A Blues Jam Is Run
Typically a blues jam is controlled by one person or band. Usually that person is a local musician or band that has some following or reputation in the local scene. But that's not always the case.
That band supplies the "backline" or equipment for the jam including the amps, drums and PA system. Sometimes they supply the instruments, like bass and guitars but more than likely you will need to bring your own instrument. Drummers bring your own sticks.
Most guitar players like to bring their own amps too. But that only works if you have a small combo amp that can load in and load out easily. No Marshall stacks will usually be allowed.
The leader of the band has all say as to what happens during the jam. They pick who gets to play and when. They control the volume of the players and if someone gets too loud they'll often hear about it or get asked to leave. Remember they have to answer to the club owner so they are only doing what it takes to keep them happy and make the jam successful. If jammers and fans don't come out then the jam will fail from the club owner's point of view and the band will lose the gig. That's important if you are full-time musician and use jams to fill out your schedule particularly in the early part of the week.
Often it's helpful if the house band is a known band because it brings out some of their fans so that the club owner has some customers to start with. Plus it's always great to have an audience to play for and get their reaction when you are first playing in front of people. The top jams with the best players are often packed with jammers and fans.
The First Set
Usually the first set is the house band playing some of their songs usually by themselves. But this doesn't have to be the case. Sometimes they invite selected jammers up during this set and this is always a prized time to play because the house band has the best musicians and they know how to play together. Once the jam starts you often don't know who will be put together and sometimes the combinations don't always fit together well. That's why it's helpful to get to know everyone and their strengths and weaknesses.
Who Gets To Play The Jam and When
Sometimes the leader will have a signup sheet for jammers. It's often first come first served so don't be late or you could end up playing to the bar rats at 1:00 AM.
More than likely most of the jammers are regulars and the leader knows everyone so they may even have players that get special consideration about when they get to play. They want to keep the club owners and spectators happy too. But most leaders realize that if they want to keep the jam growing and thriving they must be able to get new jammers up on stage too. Otherwise they won't be back.
So either before or after the first set go up to the leader and ask them what you need to do to get to play. This is cool and any jam leader will be happy to meet you and probably will ask you some questions so he can get a sense of what you can play and who would be best to put on stage with you. Again their goal is to have a successful jam so they want you to succeed.
So be honest. If this is your first time let them know and they will probably find the best spot for you. If you know some standard blues songs mention them and that will give the leader a sense of where you are at and also show them you are serious about succeeding in the jam setting. Again it's all about credibility
If there's a signup sheet they'll probably take your name at this time. Don't be surprised if it takes an hour or more to get up on stage. Some jams are very busy and there could be 10-20 jammers there on a given night.
Suggestion On How To Get Ready for A Jam
1. Go to the jam the first time with no intention of playing
It may be best for your comfort level to just go to the jam just to watch the first couple of times. That way you can get the "lay of the land" and check out how the jam is run and maybe meet the leader and tell them you'd like to jam next time or in the future. Ask them if they have any suggestions for how you can get ready.
Having a few songs that most every blues player knows will help you be ready to play. There are many blues standards that you should know how to play. The more songs you know the better chance you have of getting up when a song you know is being played. If you are a singer too be sure to mention that to the leader. Often there's not many folks who sing at the jam so that might help you get up quicker and be able to control the situation a bit better. This is another good reason to go to watch and see what songs are typically being played.
You also want to know the different types of grooves that typically get played at a jam. When the leader calls for a Chicago shuffle in E or a rhumba in G, you want to be familiar with how that type of groove is played. Other styles include funk, swing, or jump blues. The more groove styles you can be comfortable with the more you will be able to fit in to the jam.
3. Be realistic about your skills
If you are not ready to go to a jam admit it to yourself. Just go as a fan in the beginning until you know what skill level is required and can play at that level. Remember not all jams have pro level players so look around for other ones that might be more at your level and might even play the blues styles you are most comfortable with.
4. Be cool
Like any social situation, the easier you are to get along with the more successful you'll be. Try to get to know people first. If someone gets up and plays well, go let them know when they come down off the stage. They are probably just as nervous as you and will appreciate any positive comments. Maybe you'll make a friend and then have someone who can help you learn the ins and outs of this blues jam thing. I know I've met some great people at the jams and even went on to form bands with them. It's a great scene once you get into it.
5. Keep your expectations low.
Don't expect to do well your first few times. Playing in a jam situation is not easy. I've been playing for 40 years and I still get nervous and mess up sometimes when I go to a jam. Often you are thrown into musical situations that may not be perfect for you and your skill or comfort level. That's how everyone feels. And there's definitely times when the other players may be less skilled than you. So expect a few "train wrecks" now and then. They come with the blues jam territory.
6. Listen
The most important thing you can do in a jam, or anytime you play with other people, is to listen and pay attention to the other players. Make sure your volume is inline with the song. If you are too loud you will definitely piss off the other players, not to mention the jam leader. If anything, play too soft instead of too loud. If you need to turn up someone will probably tell you. If you don't know what to play, or feel that the song is over your head, just play quietly and listen to the players that do know. You are bound to learn something.
Being sensitive to the other players will go a long way to increase your credibility and help you fit into the scene. This may be the most important skill you will learn for playing with other people. And learning to play at the right volume is not easy and is one of the more important things you'll need to learn to play in a blues band.
I try to record every jam I go to. It's a great way to learn and see how you are fitting in. Again, keep those expectations low and don't be too hard on yourself. Jams are difficult and often put you outside of your comfort zone. But if you persevere you will gain respect and again, you are bound to learn something.
Ok that's some hints for how to get into the blues jam scene. It's a great way to get your feet wet and learn how to get up on stage and play. After all, you don't want to just play in the bedroom for the rest of your life. Get out there and have some fun.
Here's a video from a recent jam I went to. In this situation I got to play with the house band during the first set. Yippee!
Click To Watch A Free Lesson