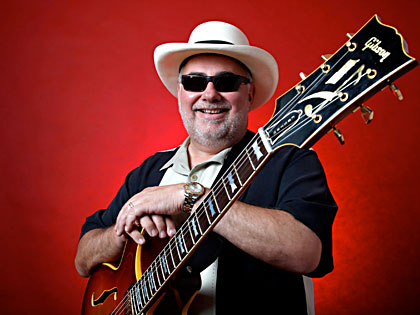 Duke Robillard is one of my favorite blues guitarists. If you like jazzy blues this is the guy to learn from. And thankfully he's starting to do more instruction himself, much like Robben Ford is doing as well.
His style is a bit advanced. So if you are a new blues guitarist you may want to put this off till you're a bit more seasoned. You can take a look at some of his live performance videos on this page.
But this first video is actually pretty basic and contains a lot of Chicago Blues grooves and licks. He focuses mostly on rhythm guitar parts. It's a full 50 minutes of instruction so you will get your money's worth. It includes many things a beginner can learn, and even if you can't play a lot of this stuff yet, it will give you a good sense of where you want to be able to go. Definitely worth watching.
This next video is an earlier video by Duke Robillard but it contains some more advanced teachings. It is a bit more jazzy in terms of harmony and the chops are definitely more advanced.
As far as further instruction Duke seems to planting his flag at www.http://sonic-junction.com and is putting his instruction videos there. I'll keep you posted about any deals they may be offering. Here's a sampling of those lessons on YouTube.
Check Out JamPlay's Free Videos Here
Click To Watch A Free Lesson