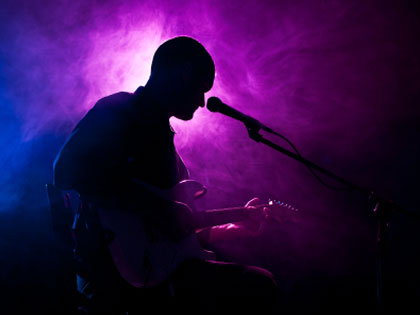 Tablature is a simple way to notate music for the guitar. Instead of using complex music notation that does take some time to learn, "tabs" as they are called, are easy, and once you learn them you can figure out scales and chords quickly.
Blues guitar tabs are perfect for a new blues guitar player and they can help you get started quickly and easily when learning to play blues guitar. Later your ear may take over and you won't need them.
In tablature the guitar strings are shown visually as if you were looking down at the strings as you play. The low E string is on the bottom and the high E is at the top. Frets to be played are indicated by numbers, 0 through 24 typically. You can also indicate slurs, slides and hammer ons with tabs as well.
If you would like to learn more about tabs I recommend a website called TrueFire.com. They have excellent training videos for all aspects of learning to play guitar.
This picture shows the basics of how tablature works.
The down-side of tabs is they don't show rhythm so you have to use your ear and experience with the song to fill that in for yourself. Good tablature often show the bars of the music as well. Some show the standard notation as well.
Here's some blues guitar tabs for various blues artists…

look inside
The T-Bone Walker Collection
By T-Bone Walker. For guitar and voice. Hal Leonard Guitar Recorded Versions. Blues. Difficulty: medium. Guitar tablature songbook. Guitar tablature, standard notation, vocal melody, lyrics, chord names, guitar notation legend and introductory text. 95 pages. Published by Hal Leonard (HL.690132)
(2)
…more info

look inside
Blues Breakers With Eric Clapton
By John Mayall and Eric Clapton. For guitar and voice. Hal Leonard Guitar Recorded Versions. Blues Rock and Classic Rock. Difficulty: medium. Guitar tablature songbook. Guitar tablature, standard notation, vocal melody, lyrics, chord names and guitar notation legend. 78 pages. Published by Hal Leonard (HL.694896)
(2)
…more info

look inside
Blues Solos For Guitar
Reh Prolicks. Instructional and Blues. Instructional book and examples CD. Guitar tablature, standard guitar notation and chord names. 96 pages. Published by Hal Leonard (HL.695451)
(12)
…more info

look inside
Beyond Basics – Acoustic Blues Guitar
(Acoustic Blues Guitar). For guitar. Guitar Method or Supplement; Method/Instruction. Ultimate Beginner Series. Instructional and Blues. Instructional book/CD package. Guitar tablature, standard notation, instructional text, black & white photos, guitar tab glossary and guitar chord diagrams. 68 pages. Published by Alfred Music Publishing (AP.0059B)
(6)
…more info

look inside
12-Bar Blues – The Complete Guide For Guitar
For guitar. Guitar Educational. Learn To Play, Blues and Play Along. Instructional book and accompaniment CD. Guitar tablature, standard notation, chord names, guitar chord diagrams, instructional text, guitar notation legend and introductory text. 61 pages. Published by Hal Leonard (HL.695187)
(13)
…more info

look inside
Stefan Grossman's Early Masters of American Blues Guitar: Delta Blues Guitar
(Delta Blues Guitar). Edited by Transcr. Stefan Grossman. For acoustic guitar. Guitar Method or Supplement. Stefan Grossman's Early Masters of American Blues Guitar. Blues and Delta Blues. Guitar tablature songbook and examples CD. Guitar tablature, standard notation, vocal melody, lyrics, chord names and guitar chord diagrams. 64 pages. Published by Alfred Music Publishing (AP.25980)…more info

look inside
Delta Blues Guitar
(Oak Anthology of Blues Guitar). For guitar. Oak Anthology of Blues Guitar. Delta Blues and Technique. Instructional book. Introductory text, instructional text, black & white photos, musical examples, standard guitar notation, guitar tablature and discography. 112 pages. Oak Publications #OK64683. Published by Oak Publications (HL.14008584)…more info
Click To Watch A Free Lesson