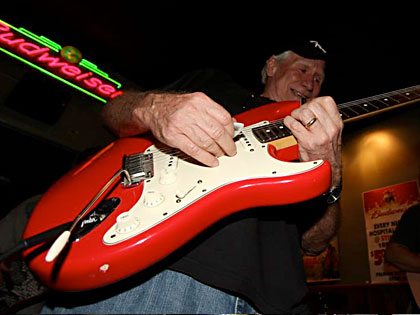 Stingray's Blues Jam is back on Tuesday's. It never really left but it did get a bit off-track during the Christmas/Holiday season.
But London Phil, the club's owner, is still committed to continuing the great jam at one of the more "blues-friendly" clubs in the area.
Actually Stingray's had a name change recently. It's been changed to London's Bar and Grill. The change is still in process and the sign is due to be changed shortly. But the place looks great with nice sit-down tables now and an upgraded menu. The food has always been a high-point of the place, but it seems Phil has re-committed to making it even better.
But back to the music…
The jam has a new host. Jimmy Griswold was getting too busy and had to let this one go. But Bob Petrocelli has taken over. Bob is a veteran bluesman from New York who moved here recently. He's a great player and has moved the music more to traditional blues from the jazzier style that The Griz is known for. It's all good.
And with the great rhythm section of Richard Smith on Bass and Eric Elsner (this night) on drums the groove was super solid. Also keyboard player Dave Hardy has been there every week and, in my opinion, has taken the jam to a great new place. I personally think keyboards add the required flavoring to make the blues really special. Dave is one great player and I hope to play with him a lot more myself.
Also this night we had some great jammers including Richie Newport, Geno on drums, Jeff Korth, and special guest Drew Gansz on guitar. Drew was visiting with his family from Rochester. Drew is one of those wunderkind, teenage guitar players that are gonna keep the blues alive for years to come. I bet we will be seeing something special from him in the future. Catch him in the second set video.
Anyway, enough talk. Here's the highlighted music for the evening.
Enjoy!
Set 1 w/ Bob Petrocelli, Richard Smith, Dave Hardy, and Eric Elsner
Set 2 w/ Rick Honeyboy Hart, Richard Smith, Dave Hardy, and Jeff Korth and Geno
Set 3 w/ Rick Honeyboy Hart, Bob Petrocelli, Richard Smith, Dave Hardy, and Eric Elsner
Click To Watch A Free Lesson