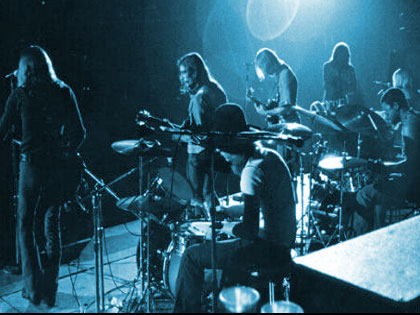 Guest Post By David Singer
While the Allman Brothers have enjoyed an unexpected resurgence of fame in the past decade, Duane Allman, the founder and considered the patriarch of southern rock, never got the recognition he deserved. In many ways he was the first to merge blues and jazz. And the Allmans always credited him as their visionary even 40 years after Duane's untimely death in 1971 at the age of 24.
For years he was number three on Rolling Stone's Greatest Guitarist List, behind Clapton and Hendrix, and in front of other household names, yet Duane never became famous outside guitar circles. I think this story below captures how electric and special he was, the kind of guy you can't contain, the kind of guy who walks into a room and everyone feels his presence.
The story goes that he was a fan of slide blues guitarist John Hammond, and he heard that Hammond was brought down from New York City to record at the famous Muscle Shoals studio, a place where Duane worked occasionally and knew all the studio guys. Apparently, so goes the story as told by Hammond himself, the session wasn't' going that well for Hammond. The Muscle Shoals band had expected a black man to come down from New York for the slide guitar track. When they saw it was Hammond, a white man, they were a little disappointed: Another white man trying to play like a black man.
After a day or two of playing together, with little synergy, Duane rambled in for a visit. Wearing his typical ragged and far out hippie duds, driving a milk truck, no less, he entered the studio. The Muscle Shoals studio guys stopped everything to give Duane the red carpet treatment. Duane was already known in the southern circles as special and someone likely to breakout and find success. So Duane says, I've come down to meet John Hammond, I hear this cat is out of sight. I want to hear him play. And the studio guys are taken with this. Hammond says that as soon as Duane gave him the thumbs up, everyone's attitude changed. "If Duane approves of this guy, he must be alright," Hammond said, illustrating the kind of influence Duane, in his early 20s, had on people.
From that day on, Hammond and Duane Allman remained good friends. In fact, Duane spent the night in Hammond's apartment in New York City the day or two before Duane flew home and got in his fatal motorcycle accident.
David Singer reviews music weekly for the Daily Gazette, Schenectady, N.Y., covering nearly 50 concerts a year. He recently wrote a book on Robert Johnson, a fictional account of how he imagines Robert Johnson lived, based on his music. You can visit his Blog here.
Click To Watch A Free Lesson