How To Play "Rock Me Baby" On Guitar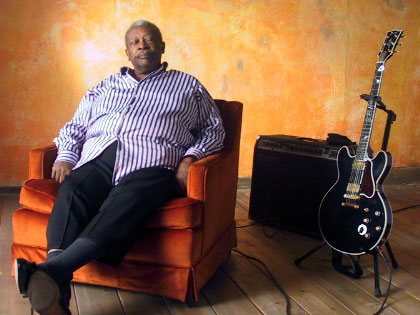 This is a classic B.B. King tune that really translates into a lot of other songs. It's basically a slow shuffle but it can be played Chicago style, and be uptempo and rockin'. Or it can be played jazzy and that opens it up to lots of harmonic possibilities.
As you can imagine, it's been played by many people and there's lots of versions of it. I've put some various videos to show the different ways it can be played here.
Anyway, it does let you play some nice chords. You can use lots of 6th and 9th chords if you want to make it jazzy. But you can play it "Chicago" it keep it rocking and with mostly 7th chords. Red Lasner from TrueFire.com gives you both versions below in the instruction video.
The scale is basically minor pentatonic. Learn more about that here. He mentions the B.B. Box in the video. Here's more about what that is.
I've also included some bands playing the song in various styles.
Enjoy!
First B.B. King – Nice version here with B.B. at his best
Here Jeff Beck takes the B.B. King version on a wild ride.
Here's a cool version with Tina Turner – she kicks butt here!
Click To Watch A Free Lesson