How To Play "I'll Play The Blues For You" On Guitar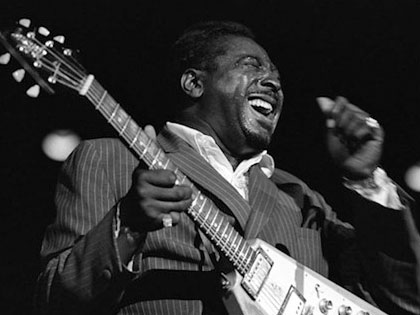 This Albert King classic is a great song that is a little more sophisticated than a lot of blues songs you'll find. It doesn't use a strict 12-bar format. In fact, the B section/turnaround/bridge is fairly unique. It's a 6-5-4-5 sequence. But it's a great line for soloing over.
Again there's no one way to play this song, but the groove you see here is the one you will come across most often and very similar to B.B. Kings Thrill Is Gone. Red Lasner from TrueFire.com, in the last video shows you the type if groove and lead lines that you are mostly likely to find out there at a jam.
I'll Play The Blues For You is a great chance to expand your chord and lead vocabulary. It's basically a minor pentatonic scale, but the harmonic movement let's you go to a few places you might not normally go in a blues song.
Albert first recorded the song on his I'll Play The Blues For You in 1972. That was about in the middle of his career, but far from the hey day of blues in general. But it still managed a good response from record buyers. And like many great blues songs and albums it just got better over the years as new audiences have found it.
Scales To Use
The song as played by TrueFire's Red Lasner is in G minor and uses mostly the pentatonic minor scale. Learn more about that scale here. TrueFire.com has a nice class about it on their website along with many other blues classics.
Albert King Playing An Extended version of the song
Here's Red Lasner of TrueFire.com teaching you how it's done
For a great instruction video about Albert King and Stevie Ray Vaughan, I recommend watching the In Session show here on this page.

Click To Watch A Free Lesson