How To Play "Cross Cut Saw" On Guitar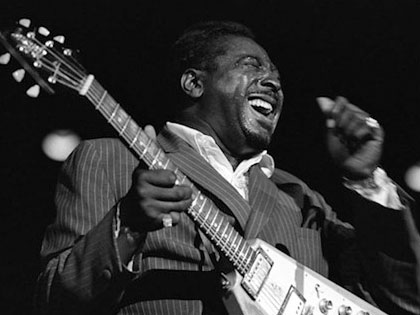 If you hit a blues jam you want to have a rumba in your repertoire. And Cross Cut Saw, made famous by Albert King, is probably the epitome of a great rumba and one you'll hear the most out there at a jam.
We blues guys call this groove a rumba but I'm not sure if that's really what it is. And there's really no one way to play this groove. I know I play several songs that I classify as a rumba but they all are a little different.
But we'll stick the classic interpretations here. It's really more of an Afro-Cuban feel that was common to New Orleans and blacks in the 40's and 50's. Here's more on Wikipedia about the groove.
Most rumba blues songs are basic 12-bar forms with pretty standard 7th and dominant harmonic feels. You can also add 6th and 9th chords and they work fine too. You can use both major pentatonic and minor pentatonic scales for leads and be pretty safe. It's just that groove you've got to lock into.
Now Albert King is the blues guitarist most identified with this song. It can be found on several of his albums. But the song was first released in 1941 by Mississippi bluesman Tommy McClennan and has since been interpreted by many blues artists.
"Crosscut Saw" became an early R&B chart hit for Albert King, who made it his own and one of the most played blues songs of all time. It first appeared on Albert's Stax Records release in 1966 called Born Under A Bad Sign which also included that famous song. King's backup band on the record was the house band at Stax, Booker T and the MG's.
Many others have recorded the song including Earl Hooker (1970 Sweet Black Angel); Sam Chatmon (1970 Mississippi Sheik); Lonnie Brooks (1975 Sweet Home Chicago); Eddie Taylor (1975 Ready for Eddie); Otis Rush (1975 So Many Roads, released 1995); Eric Clapton (1983 Money and Cigarettes); R. L. Burnside (1992 Bad Luck City); Gary B.B. Coleman (1992 Too Much Weekend); Carey Bell (1994 Harpster); Lurrie Bell (1997 Young Man's Blues); Walter Horton (1999 Harp Legends, Vol. 1); Stevie Ray Vaughan (2000 SRV) and many others.
Here's Albert Playing His Version
Here's Red Lasner of TrueFire.com teaching you how it's done
Now TrueFire.com is really my favorite online place to get blues guitar lessons. Check them out here.

Click To Watch A Free Lesson