Bryan Lee and the Blues Power Band Live in Orlando FL
Story and photos by Raymond Proetto of BluesPowerPhoto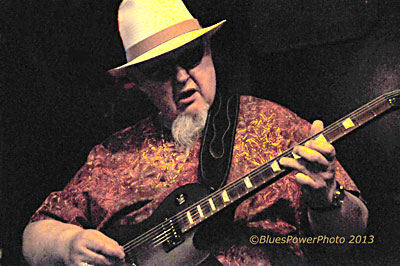 In April of this past year I had the pleasure of attending a performance by Bryan Lee and the Blues Power Band in Orlando FL. The show was one of Zaida Zoller's ZShowz in Orlando. She books a continuous line up of national and local blues acts in various Orlando Venues. This show took place at McWells Pub in a small intimate room which was just large enough for the sound to be exceptional.
I heard this band perform many years ago at a Suncoast Blues Society Christmas bash at Skippers Smokehouse in Tampa. I remembered they put on a non-stop dance party with rockin blues, rock n roll, and some slow blues burners. I also recall Bryan's Lee's band members were top notch and they could have put on an exceptional show all on their own. The drummer was a driving force and there was a second guitar player who put out a level of speed and power that Bryan Lee used to further propel the band's energy. I never looked into the names of the band members but I was hoping Bryan Lee would be backed by the same crew this time.
Here's A Taste Of Bryan Lee and Brent Johnson from Another Concert
The band hit the stage without Bryan Lee and played two up tempo high energy instrumentals that set the stage for what was going to be an eclectic mix of music. They played "Rock This House" by Jimmy Rogers and "No Fun" by Iggy Pop. The band cooked right out of the box.
Then Bryan Lee came up on stage and the band played a selection of songs which demonstrated Bryan Lee to be not only a skilled Bluesman but one of the most knowledgeable performers concerning those who preceded him in the business. The first set song list made this abundantly clear…
"Shipyard Blues" – by Dale German
"Think" – by Jimmy McCracklin
"Sugar Sweet" – by Muddy Waters
"Sick and Tired" – by Chris Kenner
"Woman Across The River" – by Little Milton
"Don't Bite The Hand That Feeds You" – by Tampa Red
"Six String Therapy" – by Bryan Lee
Each song featured Bryan Lee on vocals and guitar including a chance for his second guitarist to alternate playing rhythm and lead with Bryan.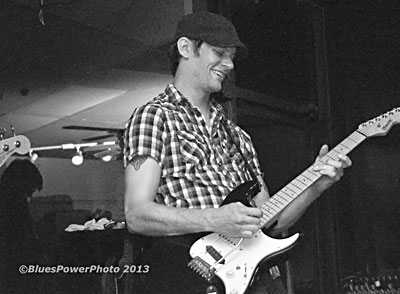 The guitarist turned out to be the same one I saw play with Bryan years ago. His name is Brent Johnson and I couldn't help being impressed all over again. I also recognized the drummer from the last show and it was frightening how John Perkins made it look so easy. Most bands would be instantly improved if they had some one of John's caliber smacking the skins. There was a very talented keyboard player named Larry Byrne and the band was rounded out by Nick Hern on bass.
Bryan's guitar and vocals were always impressive for their soulfulness. His passionate vocals and expressive guitar work never disappointed. His fingers convey the Blues as if it comes directly from his heart. If you have never seen him perform, make it your business to catch his tour. Despite my enjoyment of Bryan's performance, as the first set continued I remember how captivated I was with Brent's guitar playing. If Bryan's guitar playing was the soul of the band, Brent's was the energy.
Brent played mainly with a pick and sometimes finger picked during the first set. His playing was not only impressive for its speed and energy but also for its creativity and his skilled use of the song's rhythm within his solos. Brent didn't just go off into orbit playing solos and then have to come back down to earth for the band to finish the song. I could always feel the rhythm and framework of each song in his playing.
As the first set came to a close I was thrilled to have made the drive to McWells for Bryan Lee and his Blues Power Band. After one set I could have gone home very satisfied with such an entertaining show. What I couldn't possibly predict at that point in the evening was just how much Brent Johnson was going to truly blow me away in the second set!
Brent Johnson Takes It To The Next Level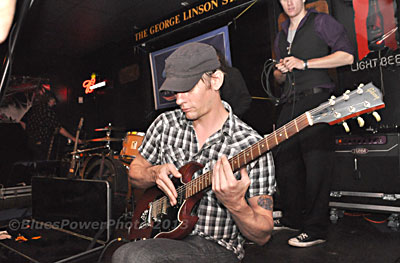 As the second set began, the band launched into two songs on its own without Bryan. Brent set the stage for a clinic in slide guitar as he covered slide master Earl Hooker's "Hucklebuck." Then they did Howlin Wolf justice with a version of "Shake for Me" just before Bryan rejoined them onstage. Brent never let up playing an ever increasingly creative set of slide guitar. After seeing Derek Trucks perform a number of times, it takes a lot for a guitarist to impress me with slide playing and impress me is exactly what Brent did. Not only did he sound great, but I had never seen quite a few of his moves before. Brent later confided that he's learned quite a few of those out of this world slide techniques from Sonny Landreth.
After the first two songs, the set was mainly a catalogue of Bryan Lee tunes which included "Braille Blues Daddy", "Blues Singer", "My Lady Don't Love my Lady", "I Gotta Rock", and "Naples FL." They also covered some classic standards such as "Ain't Nobody's Business", "Tin Pan Alley" and "Shake Your Money Maker." One surprise number which really showcased Brent's slower but moving slide playing was Bob Dylan's "Meet Me in the Morning." They closed the show with "Shake Your Money Maker" just in case there was any doubt they could rock out until the walls came tumbling down.
When the set was over, Brent sat on the edge of the stage talking to fans and demonstrating some of the slide techniques he's picked up over the years. I spoke briefly with Brent and he mentioned the new CD he was working on entitled "Set the World on Fire." This will be his first and his eyes lit up as he explained that Alvin "Youngblood" Hart and Sonny Landreth both performed on it. The CD will be released on April 8, 2014.
After ten years performing and improving his skills with Bryan Lee, Brent Johnson is ready to do it on his own.

Click To Watch A Free Lesson