Honeyboy Light is the duo version of the Honeyboy Band. It includes myself, Rick Honeyboy Hart on guitar and vocals, and Earl The Pearl on harp.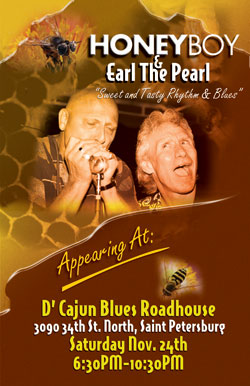 This gig was at a new club in St. Petersburg Florida called D'Cajun Blues Roadhouse. Always good to see a new club playing live blues music popping up.
Now as a duo we play one set of acoustic music with just myself and Earl. In other words, I play acoustic guitar and Earl plays harp through a microphone.
The other two sets we go electric and play along with backing tracks. Now these backing tracks are real recordings of real musicians, usually my band, and we play along with those tracks. Many are original song recordings where vocals and leads have been removed.
Why do we do this?
Typically because the club can't pay for a full band. It's not an ideal way to play music, but if you're a professional blues musician, it's a way to keep working and make pretty good money. As you know, many clubs these days, can't afford to pay full bands, especially during slow, weekday nights.
Anyway here's some videos to give you an idea of what this sounds like. You might be surprised at how good it can sound. And perhaps many in the audience don't even care. But you be the judge.
Let The Good Times Roll
Spider And The Fly
It Hurts Me Too
Big Boss Man
Blues Revival (original tune)
Click To Watch A Free Lesson