Interview by Raymond Proetto of BluesPowerPhoto
Brent Johnson is a true student of the guitar. He is driven to perfect his craft and endlessly strives to reach new heights. Hearing Brent discuss his love of music is inspirational no matter what your goals in life. Brent Johnson has been playing Guitar in Bryan Lee's Blues Power Band for the past ten years. I had the pleasure of seeing the band on April 27, 2013 at McWells Pub in Orlando FL. Here's an article about that show. We spoke briefly after the show and the next day at length. Here is what he had to say…
At the time of this interview, Brent Johnson was age 33. He began playing guitar when he was 4 years old. He's been improving his craft for twenty nine years!
INTERVIEW:
RP – What got you started with the guitar?
BJ – I had a guitar in my hands from the age of one or two. I started playing for real at age 4 as soon as my fingers were big enough. My Dad always wanted to play so he encouraged me. But it was my Grandfather who played and had a radio show during the depression. My Grandfather was very talented. He played anything. Organ, brass, strings, and had a great voice. He taught himself how to read and write music. Morse Johnson. I didn't even know he played until I was older.
RP – Do you play other instruments?
BJ – I can also play anything brass – baritone trombone, tuba, and mandolin, banjo, and although poorly, some violin. I was always the new kid because we moved a lot. I had a lot of time alone in my room and later I worked in a music store and learned on my down time.
RP – Where were you raised?
BJ – Mostly in Dallas, San Antonio, and New Orleans in High School. My father was a salesman with a big family. He had his own company for a while. When we moved to San Antonio we had no furniture for 6 months. Sometimes we had lights, sometimes not. My Dad worked 5 jobs at one time. I had great Parents and 4 older sisters. The youngest is 8 years older than I am. My oldest sister could have been my mother. So my sisters weren't my playmates, I had a lot of time on my hands.
RP – Who else or what influenced your music growing up?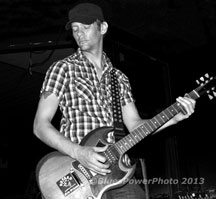 BJ – When I was 14, Van Halen's 1984 came out with "Hot for Teacher." I heard Eddie's playing and I wanted to be that kid. I thought that would make me popular. I was always a really good student. I could have gone to any college but I wanted to be a musician. My Father was supportive but not a stage Dad. He took me to a seminar of motivational speakers which included Colon Powell. When we were on the lunch line Mr. Powell talked to me. I told him I want to be a musician. He said if that's your dream just go do it. My Dad said the same, if you want it bad enough just go get it.
It's a hard life always being on the road away from family and friends, no health insurance, retirement, etc. I was told by some people to get a degree in something useful you can fall back on. You do it (play guitar) because nothing else feels right. I was a salesman, worked in network security and some other jobs. But nothing felt right except a guitar in my hand.
RP – Why Blues and not Jazz or Rock?
BJ – The Blues is my first love. I've never been in a rock-n-roll band. In high school I played in a band and if it wasn't recorded in Chicago we didn't do it. It had to be Blues. My bass player from High School Doug Dietrich earned a Jazz Scholarship and went on to play with Ellis Marsalis. Our drummer Dan Caro, had no hands (Due to a burn accident at age two), now he'doing shows with Santana.
My Dad was a big music collector. He played trombone very well and was a tremendous singer. In 1956 or 57 he was in a rock-n-roll band. I just learned about it this year. He was big into rockabilly, Elvis Scotty Moore. In South Texas Blues was everywhere. The first time Stevie Ray played Austin City Limits on TV my father woke me up to see it.
My first blues record was Robert Johnson. I spent years learning the Delta Blues. My grandfather would tell me stories about how his band did country and popular stuff. They would trade and substitute with black bands. There wasn't as much division back then musically as it has been portrayed.
RP- Who inspires you right now?
BJ – Alvin "Youngblood" Hart for one. He's playing on my album. I've been listening to a lot of younger guys lately like Sean Costello. So many young good players… John Nemeth, JP Soars. Damon Fowler is the best writer of our generation. There's a zillion more. Greg Gumpel, although he's no longer playing full time. He showed up in Pensacola (when the band performed there) and he immediately played beautiful melody lines with me. I'm gonna get in trouble if I don't name them all. John Hart plays with the Sauce Boss. He's a great singer, player, with an impressive sense of rhythm.
Early on I devoured the old masters. I have every Freddie King, Albert King, and T-Bone Walker Album. I studied them for years. I spent every penny on them. I also grew up where Clarence "Gatemouth" Brown lived. He was one guy who never got near the credit he deserved. From all accounts, the old guys have so much respect for him. Gate is one who really changed how the instrument was played. At first he copied T-Bone, then he invented this swing phrasing that no one else had. Between him, Hubert Sumlin and T-Bone, if you combine them you have the basis of electric blues guitar. Then BB simplified it and made it his own.
I've spent the first half of life learning what to play and the second half learning what to leave out.
When Stevie Ray passed, everyone would dog on Jimmie (Vaughan) but he was great. I used to really defend that guy. His phrasing and dragging tempos are genius. He played very few notes but the right ones. The old guys did that a lot and it was so cool.
When we (Bryan Lee and the Blues Power Band) did "Katrina Was Her Name," me and Duke Robillard played on it. I was scared thinking they don't need me. He said don't follow me. I'm gonna drag, I'm gonna be behind the beat, it's what I do. It becomes more effective than playing on the note. Hubert (Sumlin) was a master at that, a jagged angular way of playing. It never would have occurred to you but when he did it, it was incredible.
RP – How did you hook up with Bryan Lee?
BJ – John (Perkins) the drummer and I had a band when I was 17, 18. Our bass player left to play for Bryan. Then his drummer and guitar player quit. He needed players. I was working a regular job and I was married and just had a baby. Bryan tried 4 -5 other guitar players and none of them worked out. Then I went out and bought all his records and learned them all. One night I put my stuff (guitar and amp) on stage. Three songs into the first set, Bryan called me up. If he thinks you're good, he will throw curve balls at you and that's what he did. But I knew his songs and then he asked me to do the second set. By the end of the night he hired me. Seven years later I was divorced. It's hard being married to someone who's always gone. You miss everything, first words, steps, weddings, etc. She hung in there as long as she could.
RP – What direction do you see the Blues moving today?
BJ – The live music scene is changing. We've lost a lot of clubs. But I think for a long time after Stevie Ray died, Blues became all about the Stevie Ray club. It got boring and always sounded the same. But now, guys like Sean Costello came from so many places (musically) and played different styles. There's a bunch of kids getting into it and crossing over to the jam band scene. It's cyclical.
The last interview I did, the lady said "you don't really play Blues." I said, what do you mean? You tell me what is Blues? Any art form has to be able to live and breathe and grow. That kills it if it doesn't. It's gotta bear some resemblance but it's gotta move forward. Sean (Costello) was a good example of that. It was his direction but there was no mistaking the roots of his style.
RP – What were you demonstrating after the show when I took pictures? You used a slide and picked lower notes?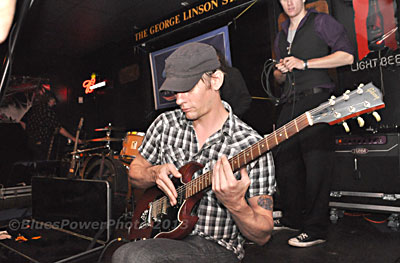 BJ – The notes are called harmonics behind the slide which makes it special. It's a Sonny Landreth technique I stole from him. I've learned a lot of Sonny's tricks. My three favorite slide players are Sonny, Johnny Winter, and Elmore James. Sonny has completely reinvented the instrument. He's been nice enough to sit down and give me pointers. He's the closest thing to seeing Hendrix today, someone who changed the world.
RP – I also noticed you used a slide and put your hand across all the strings?
BJ – Another Sonny technique. The guitar is tuned to an open chord. If the guitar is tuned with a major but the song has a minor chord you push down in front of the slide and you can do brilliant amazing things.
RP – You play with all kinds of methods. I saw you pick, finger pick, slide with finger picking. Essentially you do it all. Do you have a favorite method of playing?
BJ – Slide work I began with the Delta style. My bass player talked to Bryan and said you have to hear this kid play slide. Once Bryan picked me up to be in his band, I had to learn Johnny Winter and all kinds of other stuff. Bryan said, learn it. Sink or swim. Bryan constantly has faith that I can learn anything. He throws so much at me and pushes me all the time.
RP – What makes a great guitar player?
BJ – Time, thousands of hours and remembering to keep your ears open. Because of Bryan's relationship with people all over, I am exposed to so much. I always try to impress upon kids that they have to listen. They have to learn to play rhythm and accompany people first.
RP – Who is a great guitar player out there today that may not be nationally known?
BJ – He's known but Tab Benoit is amazing. Also Mathew Curry who lives in Bloomington Illinois is going to be great. He blew us away at age 12. He's supernatural. What a great singer and writer. He writes really good songs. Look out for him once he gets out of high school.
RP – Tell me about your new CD. What can people expect to hear?
BJ – It's done!!!! (very excited) It's definitely blues with some rock but with my spin on it. No point in trying to be a better Albert King than Albert King. There's a jump tune and a reggae tune. There are a lot of elements on it because I come from a lot of places. This being my first and maybe my only shot at a record, I want to give people an idea of where I came from and what I do. I'm constantly learning. I never really had lessons. If you are going to make a statement then cover all the ground you can.
I'm very proud to have the same drummer (John Perkins) who plays with Bryan's band.
On bass I have Bill Block who used to play with Bryan. Now he's with Alvin "Youngblood" Hart. The keyboard player on the CD is Wayne Lohr. He sings like Greg Allman and is an amazing musician. I'm thrilled to have some guest players. Alvin "Youngblood" Hart played on three songs, and Sonny Landreth is on one track.
CONCLUSION:
RP – The conversation lasted well over an hour. We could have easily talked all afternoon. Kent was on a roll preaching the religion of Blues guitar. The joy Brent experiences playing guitar spilled out of him with every word. But, all good things must come to an end. We signed off and I wished him well in his career.
FINAL NOTE:
Brent's new CD entitled Set the World On Fire is being released April 8, 2014. His band is called Brent Johnson and the Call Up and they just hit the road this year for a short January through March tour. You can listen to a few of the new CD's songs on Brent's ReverbNation page.

Click To Watch A Free Lesson