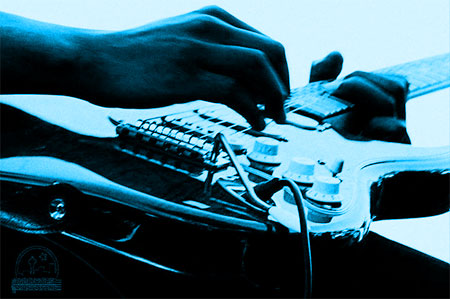 If you already play guitar you know how important having a guitar you really like is to your playing. And of course, what works for you may not work for me.
And even within a particular guitar type the guitars themselves may be quite different. I play Fender Stratocasters but I've picked up many other Strats that just don't feel good to me. I like mine with a certain feel. I'm sure you like your guitars with a certain feel too.
And don't get hung up on using guitars your blues heros play. Find what is right for you and let's you connect your own soul to the blues inside you. That's the key to great blues playing.
What Is The Best Blues Guitar
The best blues guitar is the one you like the most. For some ideas, here's the top guitars you typically see blues guitarists using. And which is the best blues guitar is really a matter of choice.
And it's often the case that a guitarist may play several different guitars depending on the song. So one style and even one brand and model, does not fit all. You may learn to love many types of guitars.
But for me it's Stratocasters…
Why? Who knows really. They are just what I've grown to love over the years. But that's just me… and Stevie Ray Vaughan, Jimi Hendrix, Ronnie Earl, Eric Clapton, Robert Cray, Buddy Guy, John Mayer, etc.
Anyway, here's a range of guitars that you might want to check out. You'll see any and all of them in use by the stars of the blues. And they all sound good.
Fender Stratocaster
This guitar was first introduced by Fender in 1954. It has become perhaps the most important electric guitar in history. At the time it was an extremely radical guitar design. Nothing else looked like it.
And it wasn't just the design that was different. It featured several playability improvements over the Fender Telecaster including…
Better intonation
Better tone
Player comfort was improved
A better vibrato unit
Leo Fender had been asking every guitarist that came to the Fender factory what could be improved on the Telecaster. The Stratocaster embodied all those improvements.
Of course today these facts are old news. We expect all of the features now. And some guitarist never use the Strat vibrato unit so who cares. But for me it's critical. I love to add a little vibrato to my chords as I play. It's become integral to my sound.
Blues Guitarists Who Used A Stratocaster
Stevie Ray Vaughan, Jimi Hendrix, Ronnie Earl, Eric Clapton, Robert Cray, Buddy Guy, John Mayer, Ike Turner, Howlin Wolf, Pee Wee Crayton, Jeff Beck
Gibson Les Paul
Used by more Blues Rock players than other types the Les Paul is a most-loved guitar by many rock guitarists in general. It's big fat sound screams power and it's fat tone cuts through any mix.
Blues Guitarists Who Used A Les Paul
Jimmy Page, Joe Bonamassa, Duane Allman, Peter Green, Warren Haynes, Walter Trout, Hubert Sumlin, Mike Bloomfield, Billy Gibbons, Derek Trucks
Gibson ES-335-345-355
This top-of-the-line Gibson guitar series is "blues famous" mostly because of Lucille. Yes B.B. King's guitar is a ES-355, called Lucille, which comes from the Gibson "335" family. Lot's of other blues and jazz players use it but B.B. is the king of the ES-355. His unmistakable tone comes directly from this type of guitar and he would sound very different with anything but a Gibson hollow-body guitar.
Gibson has a Lucille model guitar made custom to B.B. specifications. It's different from a regular 355 in that it has no F-Holes at the top. This helps reduce feedback.
Blues Guitarists Who Used A ES-335 Series
B.B. King, none other known blues guitarists (let me know if you know any)
Big Hollow-bodies (Epiphone, Gibson, etc)
Hollow-body, big bodied guitars are a favorite with Jump and Jazz Blues players like Duke Robillard and many of the West Coast Blues players. It has a fat yet unique sound often because they use single-coil pickups instead of the typical humbucking pickups that are more common.
Fender Telecasters
Less common in blues than the Fender Stratocaster, the Tele is having a resurgence throughout all forms of music. It's sharp, biting tone cuts through well and with it's several pickup configurations, it's a versatile guitar.
Blues Guitarists Who Used A Telecaster
B.B. King (in his very earliest recordings), Albert Collins, Robben Ford, Roy Buchanan
Feel free to contact me to add more players to this list. Just email me here.

Click To Watch A Free Lesson