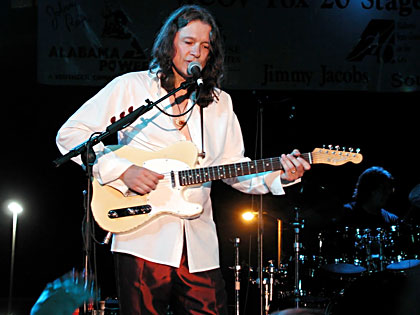 Robben Ford has always been one of my personal favorite blues guitarists. I like his mix of blues and jazz, not to mention his soulful vocals. And his bands are always top-notch and all have great chops.
If you don't know much about Robben Ford here's a bit of his background…
He's been around a long time and was a bit of child prodigy out there in California in the early 70's. Ford was born in Woodlake, California in 1951 and raised in Ukiah, California. He began playing the saxophone at age 10 and the guitar at age 14. Ford and his brothers Mark (harmonica) and Patrick (drums) created a band and named it the Charles Ford Blues Band in honor of their father.
By the time he was 18 he and the band were good enough to be chosen by Charlie Musslewhite as his back up band. Not sure what brother Mark did in this band. 😉 They had a great album back then called Discovering The Blues which I highly recommend. Mark was a great harp player by the way and had amazing chops for that era of blues harp playing.
Anyway, during his long career Robben went on to play with Jimmy Witherspoon, Tom Scott and L.A. Express, Joni Mitchell, and even Miles Davis. He played a lot of that "jazz fusion" style that was popular in the 70's. He also played with George Harrison, Greg Allman, and even Kiss. He was in bands with David Sanborn, Bob Dylan, Michael McDonald and others. Robben has been around.
It all lead to him being named one of the "100 Greatest Guitarists of the 20th Century" by Musician magazine.
But the era, that caught my attention was in the late 80's and early 90's when he began to front his own band. The high water mark albums were Talk To Your Daughter, Handful of Blues and Robben Ford and The Blue Line, where he played with Tom Brechtlein on drums and Roscoe Beck on bass. His albums with them were wonderful and at a time when blues was growing in popularity again.
Here's some iTunes links to Robben's music…
Talk To Your Daughter
Handful of Blues
Robben Ford and The Blue Line
Here's a taste of Robben and The Blue Line during this period.
Talk To Your Daughter
Cut Me To The Bone
Equipment
I've seen Robben use lots of different equipment over the years. During the 70's and 80's he used a custom Fender semi-hollow-body guitar. His main amplifier has been a Dumble Overdrive Special (you can see him talk about his setup on the Back To The Blues video here) and Celestion G12-65 speakers. That's what he's using in the videos above.
When traveling abroad he probably uses Fender Super Reverb or Twin amplifiers along with a Zendrive overdrive pedal by Hermida Audio. I saw him at a clinic and he was playing through a Fender Twin. He says if he couldn't afford the expensive Dumble amp that's what he would be using. Of course, he was younger then and I bet he didn't have to carry it. 😉
Today he seems to be getting away from his older setup. These days Ford sometimes plays a vintage 1960 Fender Telecaster, Gibson Les Pauls or a guitar custom-made by Taku Sakashta.
Recent Interview
Today
Since the 90's Robben has done many things but he never has seemed to reach that same high water mark again. He does a lot of teaching these days on his own Guitar Dojo website and recently for TrueFire.com. I've collected some of his instruction videos here.
I know I will always be keeping an eye on Robben so watch this space for updates.
Click To Watch A Free Lesson