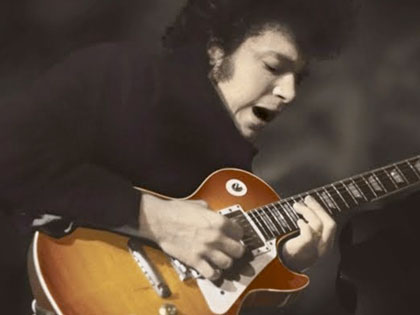 For many, Mike Bloomfield was the first great white American blues guitarist. He's often forgotten because he died young, but for a time in the 60's and 70's he was the best we had as far as white blues guitarists go.But this is not about white versus black, it's about how a middle class white boy became enthralled with a black musical form and did whatever it took to play that music well.
Perhaps you've forgotten Michael Bloomfield too. He died in 1981 of a drug overdose, but performed and recorded irregularly through the 60's and 70's.
Background
Michael Bernard Bloomfield was born in 1943 to well-to-do family in the north side of Chicago. He chose music over the family's catering business to the chagrin of his parents. But they supported him in his music and helped him with his love for the blues.
Bloomfield spent a lot of time in the clubs of Chicago's south side and followed his heros including Muddy Waters, Sleepy John Estes, Yank Rachell, and B.B. King. Al Kooper, Bloomfield's later collaborator and close friend, in a 2001 article said, "They knew this was not just another white boy; this was someone who truly understood what the blues were all about."
He worked hard to learn how to play the music he loved and hooked up with other like-minded, Chicago whites including keyboardist Mark Goldberg, Elvin Bishop, and Nick Gravenites. On a trip to New York he met fellow blues lover John Hammond Jr., son of Columbia record executive John Hammond Sr. They would form a life-long bond around the blues.
Early efforts at recording and finding a band never materialized and he came back to Chicago looking to find musical home for his guitar playing.
Paul Butterfield Blues Band
During his search he met up with harp player Paul Butterfield and guitarist Elvin Bishop. They formed the legendary band The Paul Butterfield Blues Band in 1964. The rhythm section was former Howlin' Wolf drummer Sam Lay and bassist Jerome Arnold. This band was as good as any blues band in America at the time.
Their first two albums, "The Paul Butterfield Blues Band", and "East West," were classics and almost every hip white music lover of the 60's had these albums in their collections, as well as many blacks. I know I did, and I was far from hip to the blues.
The classic 13 minute track East-West from the album by the same name, was played many times by every hippie of the day, and turned many people onto the concept of long, jazz-tinged music for the first time. All "jam bands" owe a debt to this song and Mike Bloomfield.
And Mike Bloomfield's playing on this track introduced all of us to sounds and a style that was not being played by the Beatles or the Stones, or any other band at that time.
He had been reportedly inspired to create "East-West" after an all-night LSD trip, but a subsequent anthology of the Butterfield band included a booklet saying Bloomfield had also been influenced by John Coltrane and other blues-friendly free-style jazz musicians, plus traditional Indian and Eastern music in creating the piece. Clearly he had been introduced to a more advanced tonality.
It's a fact that this band turned on a generation of white bluesmen and woman to the blues is unquestioned. Their music stands up today and their albums still sell well.
East West
Mystery Train
The Electric Flag
Another great white blues band that he helped form was The Electric Flag in 1867. It too was a big musical influence on the white audiences. It went beyond just playing the blues and with drummer Buddy Miles and bassist Harvey Brooks in the fold, the band played a wide range of soul and rhythm and blues music as well as some traditional blues. It was also one of the first of the rock bands to have horns.
Bloomfield formed the band in San Francisco when the Butterfield band's schedule became too demanding. The band included long-time Bloomfield friends organist Barry Goldberg and vocalist Nick Gravenites. They put out some great music, even though they were short-lived.
The Electric Flag debuted at the 1967 Monterey Pop Festival and issued an album, A Long Time Comin', in April 1968 on Columbia Records. Critics liked the group, but found the record itself somewhat uneven. By that time, however, the band was already disintegrating; rivalries between members, shortsighted management, and heroin abuse all took their toll.
Session Work
Mike Bloomfield might be best known for his session work, especially with Bob Dylan. He played on several of Dylan's albums, including Bringing It All Back Home, and Highway 61 Revisited.
Dylan has called Bloomfield, "the best guitar player I heard on any level." At the infamous '65 Newport Folk Festival, where Dylan "went electric" Dylan's back-up band was most of the Paul Butterfield band including Bloomfield, Lay, Arnold, and also Al Kooper, and Barry Goldberg.
He also played on other albums that achieved some notoriety, including "Super Session," with Al Kooper and Stephen Stills, "Fathers and Sons", with Muddy Waters and Otis Spann.
He was active through the 70's, if not all that visible. Personally I don't remember any other music that he put out that came up on my radar at the time.
His Style
His original musical style came directly from Chicago blues greats like Otis Rush and Buddy Guy, but he was also influenced by Chuck Berry, Scotty Moore, and Freddie King. Along with every other blues guitarist of his generation, B.B. King was also a big influence.
If I had to pick the player he sounds the most like to me I would have to say Freddie King. Bloomfield's high-energy, aggressive style owes a lot to the Freddie King approach in my book.
Over time Bloomfield's playing got more adventurous and "out there" compared to his early more traditional blues playing. By his later life he was as much known for his "jam band" style and long solos as for his Chicago Blues playing. Of course this was typical for many musicians and bands of the time. They were constantly exploring new ground, often influenced by the drug-culture of the time.
By 1967 Bloomfield had become and inspiration to many of the psychedelic bands including The Grateful Dead and The Jefferson Airplane. The Electric Flag's set at Monterey Pop Festival cemented Bloomfield's reputation as a guitarist on the leading edge of music.
The videos below show how Bloomfield's blues roots were slowly changed into a more progressive, psychedelic style that was integral to the sounds of the time. It was also mirror his decent into drug addiction on heroin.
His Equipment
Mike Bloomfield used mostly Fender Telecasters and Gibson Les Paul guitars. Most of his best recorded music seems to be using his 1954 Les Paul.
During his tenure with the Butterfield Blues Band he switched to that 1954 Les Paul model, and he used it for some of the East-West sessions. Later Bloomfield reportedly swapped that guitar for a 1959 Les Paul Standard and $100. This was the guitar Bloomfield used as a member of the Electric Flag, and on the Super Session album and concerts. The story if his finding the guitar in Boston is in Part 4 of the videos below.
Unlike Jimi Hendrix and Jeff Beck, Bloomfield never went for very distorted tones with feedback, preferring a loud but relatively clean tone, with a lot of reverb.
One of his amplifiers of choice was a 1965 Fender Twin Reverb and was generally seen with Fender amps in general, which are popular with most of the traditional blues guitarists.
He was also renowned for his use of vibrato and had his own unique style.
Later Career and Death
As heroin took over his life, he stayed close to home in San Francisco. He was to have said at one time…
..and I put the guitar down – didn't touch it.. Shooting junk made everything else unimportant, null and void, nolo contendre. My playing fell apart. I just didn't want to play.
The last few years of his life he was known to sit in with local bands around San Francisco, but had no official professional life as a guitarist.
The exact circumstances of his death are not known. Bloomfield was found dead of a drug overdose in his car on February 15, 1981.
Here's a great video of Bloomfield playing "One Way Out" at The Filmore in 1968
The Mike Bloomfield Story Videos
Thankfully there is a series of videos that chronicle his life. They are included here. There is some amazing tidbits that will intrigue any lover of 60's history here. This is an excellent history of Michael Bloomfield and the musical times in which he lived.
Enjoy!
Great version of "One Way Out" from 1
Part 1
Part 2
Part 3
Part 4
Part 5
Part 7
Part 8
Part 9
Part 10
Click To Watch A Free Lesson