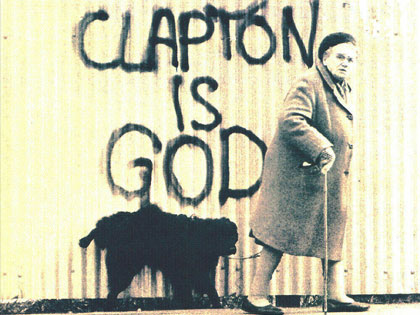 Eric Clapton is probably the best-known of the new era blues guitarists. By "new era" I mean post 50's and early 60's which was the heyday of the Chicago blues era. This era is also marked by the "whitening" of the blues where mostly white people were interested in the blues and blacks were losing interest. Read more about that here.
Of course Clapton was part of the British invasion of the mid to late 60's, which was really as much a reintroduction of American blues back to American teenagers. Much of the British interest in the blues was inspired by concerts put on in Europe for many years starting in 1962. These "American Folk Blues Festival" concerts introduced black blues artists of the previous 20-30 years to European audiences. You can learn more about these festivals on this page.
Many of the British Invasion bands were American blues-based in the beginning and later developed their own songs and styles. The Rolling Stones, for example, started by playing The Blues and their first album contained many covers of American blues songs. Same for The Yardbirds, Led Zeppelin, Savoy Brown, The Animals and many others.

Eric, and many other English musicians were directly inspired by these American Folk Blues Festival concerts, and he and others, like John Mayall, Stevie Winwood, Long John Baldry, Mick Jagger, and Eric Burdon started playing blues music directly because of seeing these concerts and being introduced to American blues.
The Blues became very popular in England and Eric Clapton was it's first "god". In fact, graffiti was common that exclaimed exactly that (see image above right). And at the time, Clapton was clearly head and shoulders above the rest of the British blues guitarists (early to mid 60's). He was smooth and articulate in his playing beyond his years and compared to other British blues guitarists of the day. Listen to those early John Mayall and the Bluesbreakers albums and check out his proficiency.
Clapton's Early Blues Bands
Clapton's first musical excursions were in 1962, when Clapton started performing as a duo with fellow blues enthusiast David Brock in pubs around Surrey. When he was seventeen years old Clapton joined his first band, an early British R&B group, "The Roosters", whose other guitarist was Tom McGuinness. He stayed with this band from January through August 1963 beginning his habit of staying with bands for only a short time. He changed bands as often as he did his hair style back in those days.
Eric's first big break, and perhaps his longest stay in someone else's band, came when he joined the Yardbirds in 1963. The Yardbirds were already a pretty popular English band and focused on the type of music Clapton loved, namely Chicago blues in the styles of Buddy Guy, Freddie King, and Howlin' Wolf. He was around 18 when he first joined the band.
After The Yardbirds Clapton joined John Mayall's Bluesbreakers. Mayall's bands were always the best of the British blues bands and he always seemed to have the best guitarists in his bands. These included not only Clapton but Peter Green, Mick Taylor, Harvey Mandel, Larry Taylor, Aynsley Dunbar, Hughie Flint, Jon Hiseman, Dick Heckstall-Smith, Andy Fraser, Johnny Almond, Walter Trout, Coco Montoya and Buddy Whittington over the years.
The Cream Era
But again, Clapton grew bored and started a new band with fellow Bluesbreaker Jack Bruce (bass) and Ginger Baker, who was playing in another blues band The Graham Bond Organization. This new band was called simply  Cream, based on the conceit that these three were the "cream" of the British blues musicians of the day. I don't think anyone argued with the claim.
Cream quickly went on to become a relatively strong commercial hit and a major critical hit with the music loving public. Their re-working of blues songs, and inspired, improvised performances (including long solos from each player) took the blues to a new place. They brought the psychedelic sensibilities of the day to the blues and if you listen to the 16 minute version of the Willie Dixon song Spoonful, on Wheels of Fire, you'll see what I mean. Their live recordings from one side of Wheels of Fire included Clapton's famous solo on Crossroads that many call one of the best guitar solos of all time.
Clapton has said later that he actually lost the time on the solo and much if it was played with him not knowing where he was in the song. Ginger Baker's drumming and Jack Bruce's bass playing could do that to you. Check out this video to hear more about the story.
Anyway, after a few years Clapton got bored again and Bruce and Baker never got along, so Cream was doomed to fail. But not before their three albums Fresh Cream, Disraeli Gears and Wheels of Fire made Clapton, not only a household name but rich. Eric Clapton had re-defined, along with Jimi Hendrix, not only blues guitar but the role of guitarists in general. The guitarist was the king of the band and playing lead guitar, and becoming a guitar god like Clapton, became the goal of just about every new guitar player of the late 60's and early 70's. This included myself who picked up the guitar in 1969. It's hard to imagine just how much of an influence Clapton was on guitar music of the day and forever after.
And he wasn't done yet.
The New Clapton
After the bombastic and loud Cream era of psychedelic guitar playing, Clapton was ready for a change. Ever the chameleon, Clapton sought to reinvent himself. His guitars and amps of choice during those Cream days were Gibson guitars with big sounds and Marshall amps with even bigger volumes. Suddenly he started playing Fender Stratocasters and smaller Fender amps (at least in the studio).
But first, his next couple of bands would change him musically… and quickly I might add.
His first was Blind Faith which was another Super Group consisting of Steve Winwood of The Spencer Davis Group, and Ginger Baker again, along with Ric Grech on bass. Blind Faith would have a couple of hits written by Winwood but only lasted 6 months and never toured in America… only in Europe briefly.
The opening act for that tour was an American band by the name of Delaney and Bonnie. Clapton began playing with them as a sideman after Blind Faith broke up. Delaney Bramlett encouraged Eric to start writing his own songs and singing more, so together they penned some songs which led to Clapton's first solo record called fittingly Eric Clapton. Hits from the record included Let It Rain and a J.J. Cale song called After Midnight. Again Clapton was changing how guitar would be played and sound, and his distinctive new style was fully in play on this new album. Many more Stratocaster guitars and Fender amps would be sold in the next few years because of Clapton's new sound and style.
Clapton returned the favor to Delaney Bramlett by stealing his band for his next solo album. The album Layla and Other Love Songs, would end up being Clapton's high water mark in his career, and his newly-named band Derek and The Dominos would include some great musicians and some of his most inspired playing.
The songs from that album dominated the radio of the time (and the turntables of every guitarist). And the fact that Duane Allman was featured highly on the album, introduced many guitarists to his band The Allman Brothers Band and their Southern Blues/Rock/Jam style, not to mention slide guitar. And that Layla contained many great classic blues songs ("Key To The Highway", "Have You Ever Loved A Woman", "Nobody Knows You When You're Down and Out"), showed that Eric was still close to his blues roots. And finding a kindred spirit like southern boy Duane Allman to share his love of the blues, really helped launch a whole new era in Clapton's musical career. He was back to playing "songs" again and playing blues in a more traditional style again, and wasn't just focused on long guitar solos.
Not to say that Layla, and even The Allman Brothers bands albums, didn't take music to literally "higher" levels, but the blues roots of the music were more evident and respected in everything that Eric would do from then on. There really was a new, more highly-evolved Clapton that appreciated "the song" as much as guitar playing. He was moving beyond just being a guitar player and was now becoming a more complete musician.
In fact, he began to focus much more on songwriting and this is when his career really took off from a popularity point of view. He was being recognized and appreciated as much for his original songs as for his guitar playing. I think this was a real paradigm shift in Clapton's career.
And although many of the songs he wrote were far from the blues, there always was a part of him that was still close to the main music he loved. And even during the late 70's and early 80's when his music had no resemblance to the blues and could only be described as "pop," you always sensed he would get back to the blues sooner or later.
During the 80's the blues was experiencing a bit of a re-birth, with Stevie Ray Vaughan experiencing his heyday, and many of the early blues greats like B.B, King, Albert King and Buddy Guy experiencing renewed interest (The Blues Brother's movie also increased interest in the blues). Clapton could always be seen hanging around these "blues festivals" and sooner or later be up on stage with some blues band who wanted to thank Clapton for keeping the blues alive through the 60's and 70's. He often had some blues band opening for his own shows, so he always stayed in touch with the current blues scene even though he was a full-fledged "pop star" by this time.
His Blues Homecoming… From The Cradle
Then in the 90's he finally made it all the way back to The Blues. His album, From The Cradle, featured re-works of many blues standards. It showed his deep appreciation and respect for traditional blues and showed he could still play the blues "right".
The 16 songs on From The Cradle included covers of songs by Eddie Boyd, Willie Dixon, Lowell Fulson, Tampa Red, Freddie King, Muddy Waters, and other originators of the blues. Of course this sparked renewed interest in all these songs and artists and introduced them to many new fans.
What Clapton did on this album was not to only update the songs with state-of-the-art sound and recording techniques, but to show that playing the blues in the traditional style was not only great music, but it was the right thing to do. How many blues guitarists went back to "school" after hearing this album to learn to play the blues "correctly" just as Clapton had done here on this album. It showed clearly that there was a right way and a wrong way to play The Blues. The "right" way was better.
And once again, he introduced many people to The Blues who perhaps had never heard it played well. His "pop star" status got people's attention and he used that status to give The Blues credibility. And of course this meant that many of the greats would experience renewed appreciation (and more work and royalties) thanks to Eric Clapton's generous mentions of them. Plus he brought many a rock guitarist back to the roots of the music they were already playing, and this lead to greater appreciation of the artists he loved. This generosity of spirit in spreading the blues may be Eric Clapton's greatest achievement when all is said and done. Perhaps no one has done more to spread and keep the blues alive.
Eric Clapton Today – Elder Statesman of The Blues
Today Eric Clapton and The Blues continue to be synonymous. He's seems to always be where he is suppose to be… at every great blues show (including his own benefit  Crossroads Guitar Festival). He continues to pay respect to great blues guitarists of the past and the future. He still plays with B.B. King and Buddy Guy whenever he gets the chance, but he's also out there introducing new blood like Joe Bonamassa, Johnny Lang and Derek Trucks.
And through the years, whatever you think of Eric Clapton as blues guitarist, is overshadowed by the fact that he has always been a cheerleader and statesman for the The Blues. He has brought it to new generations and helped keep the Blues alive for everyone. Again, this may be his greatest musical achievement. Thanks Eric Clapton.
Key To The Highway With The Allman Brothers Band
Click To Watch A Free Lesson