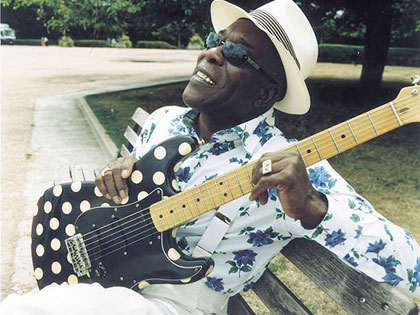 Most anyone who likes the blues knows of Buddy Guy. Actually he has become one of the better known blues guitarists in the world today. He is always at the blues festivals and often shows up on any Eric Clapton show or Blues Show on television. But not many know about his story.
George "Buddy" Guy was actually born in the cotton-picking Delta of Louisiana. He had a brief career there but in 1957 he spent the last of his money on a train ticket to Chicago. He quickly became part of the blues scene and after having been given the stamp of approval by Muddy Waters, and started doing session work at Chess Studios.
Buddy's first step forward was winning a legendary guitar contest at the Blue Flame on the South Side, when his combination of great playing and showmanship (his 100-foot guitar cord allowing him to wander through the audience and down the street) got everyone's attention. That showmanship would carry him far.
The video above comes from the American Folk-Blues Festival concerts put in in Europe. He had become well-known enough to be included in the shows. Here he plays sideman to Big Mama Thornton.
But Chess never knew quite what to do with Buddy. Leonard Chess didn't care for his style but he appeared on tracks by many other blues musician's including Howlin' Wolf's "Killing Floor" and Koko Taylor's "Wang Dang Doodle" as well as on his own Chess sides and the fine series of records he made with harmonica player Junior Wells.  Eventually he got his chance with Cobra Records. Cobra was part of the new West Side blues scene of which Buddy was part, along with Otis Rush and Magic Sam. They were all younger than Muddy's crowd and played a more soulful, gospel influenced blues style. Buddy has gone on to be the most famous of the three but it took a long time and lots of perseverance.
Although Buddy never had any hits during this time, he became established as a core part of the Chicago Blues scene and was always there when something was going on. He was a vigorous self promoter. In fact, his style became characterized as being wildly unpredictable, and he was always a showman, almost to a fault.
He eventually was embraced by the white rock and roll crowd particularly during the 60's when he, along with harp player Junior Wells, played the Fillmore circuit of Bill Graham as part of the shows he put on across the country but particularly in his Fillmore East and Fillmore West venues. The duo of Buddy Guy and Junior Wells was ubiquitous during this time. I saw them myself during this time at a college concert.
He went over well at these Fillmore concerts because had a raucous rocking style that appealed to the "hip" crowd. Blues purists might say he had gone too far into the rock style but there was a method to his madness.
In a revealing interview taped on April 14, 2000 for WRUW-FM Cleveland (a college station), Guy said
"The purpose of me trying to play the kind of rocky stuff is to get airplay…I find myself kind of searching, hoping I'll hit the right notes, say the right things, maybe they'll put me on one of these big stations, what they call 'classic'…if you get Eric Clapton to play a Muddy Waters song, they call it classic, and they will put it on that station, but you'll never hear Muddy Waters."
Influences
Although Buddy came out of the Delta tradition, when he got to Chicago he commited to the electric guitar and embraced the louder, more energetic style of the times. In fact, you could say he took it to a new level.
He played the same clubs as other Chicago blues artists like Muddy and Howlin Wolf, but the West Side style was a bit different. It was more soulful and more rocking at the same time.
Some people call Buddy the bridge between the blues and rock and roll. He certainly took the Chicago electric blues of pioneers Muddy Waters and Howlin' Wolf to a "higher" level. This style was embraced by popular musicians like Eric Clapton, Jeff Beck, Jimi Hendrix and Jimmy Page. Even Stevie Ray Vaughan stated that, "Without Buddy Guy, there would be no Stevie Ray Vaughan."
If you don't like the rocking blues style of many blues artists today you know who to blame.
Style
Buddy's style is really anything and everything at the same time. He embraces the Jimi Hendrix, over-the-top wammy bar and feedback blues, but also has great dynamics and can play softer than almost anyone. Often these extremes can be found in the same song.
And he does it all with a "shit-eatin'" grin at all times. That grin is as much a part of his style as his tone. And it's a big part of his act even today.
Equipment
Buddy Guy has settled on a Stratocaster guitar as his main guitar on stage and uses a pretty distorted sound. Recently has been seen playing a Fender Cyber Twin that has modeling for many different amps. But I suspect he may use a wide range of guitars and amps in the studio. He may even use different amps on stage occasionally. Any good guitarist is always searching for new and better sounds. That's just the name of the game.
But here is a list of his main equipment.
Guitars
Fender Buddy Guy Signature Strats
Fender Artist Series Buddy Guy Stratocaster Electric Guitar 2-Tone Sunburst Fender Artist Series Buddy Guy Polka Dot Stratocaster Electric Guitar Black with White Polka Dots
Gibson ES-335
Gibson Custom Shop ES-335 Dot Figured-top Electric Guitar with Gloss Finish Cherry
Martin JC Buddy Guy Jumbo Acoustic-Electric Guitar
Martin JC Buddy Guy Jumbo Acoustic-Electric Guitar Natural
Also…
– Jerry Jones sitar
– 1989 Fender custom shop Buddy Guy signature model Strat
– Fender custom built for Buddy Guy red strat
– Fender Vintage Noiseless pickups
Amps
Chicago Blue Box Buddy Guy signature amp
Fender Tweed Bassman 4X10 amplifiers
Fender 59 Bassman
Fender Cyber-Twin amp
Fender Cyber Twin SE Amp
Others…
– Victoria
– Gibson Gold Tone
– Bogner XTC amps
– Fender VibroVerb combo (spare/guest amp)
– Fender EC Clapton Twinolux amps (seen using them in a video demo on Fender website)
– Tone Tubby cabs
Effects, Stomp Boxes and More
Dunlop Crybaby BG-95 Buddy Guy Signature Wah
Dunlop BG-95 Buddy Guy Wah Pedal
Octave "Thing" (in Buddy's own words – anyone know what it is?)
Others…
– Furman PL-8 Power Conditioner
– Shure UR4D Wireless
– Radial JD7 Injector
Radial Engineering JD7 Injector Guitar Signal Distribution System
Ibanez TS-808 Tube Screamer pedal

Click To Watch A Free Lesson