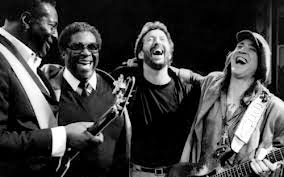 There's been a very long line of blues guitarists over the years. And depending on how you define "the blues" you can pull in guitarists who played many other styles as well.
In fact the early musicians of the Mississippi delta played a lot more than just the blues. As you can imagine, if you wanted to make a living as a musician, or just some spare change,  you had to play what the people wanted to hear. That meant a guitarist of the delta often played minstrel songs, popular songs of the day, and spiritual songs from the church.
As blues become part of popular music in the south, and as a musician became known for certain songs, they played more blues because that's what the people wanted to hear. And once they started making records, and those records made it to the local juke box, blues became more popular and so did the musicians who recorded it.
Even today nothing has really changed much. If you are trying to make a living as a blues guitarist you better know how to play Stevie Ray Vaughn and B.B. King songs, and even the occasional Mustang Sally. And if you want to play your own originals you better start your set off with some familiar tunes to get the audience's attention. Otherwise you might be playing for yourself. That is unless you manage to get your songs recorded and listened to by the public. And today that means promoting your music on Facebook, and getting it into iTunes and other online music locations like Pandora and XM Radio. More about that later.
The "Name Brand" Blues Guitarists
Of course, depending on your audience, the most familiar blues guitarists to your gig crowd may be different depending if you are playing for a restaurant crowd or a blues society crowd. Part of being a professional blues musician is reading your crowd and knowing what to play to get and keep their attention.
Some crowds may be looking for more "rock and roll" style blues like Stevie Ray Vaughn or Eric Clapton, while others may be looking for more of a Chicago Blues thing like Muddy Waters or Jimmy Reed. If you're really lucky, at least to me, maybe your crowd is ready for some uptown blues like B.B. King or T-Bone Walker.
Of course every blues lover has a list of their favorite guitarists and more than likely no two lists are the same. But of course there are a few guitarists who are on everyone's list somewhere.

B.B. King
The grandfather of the blues, B.B. King is probably one of the best loved blues guitarists of all time. This is partly due to his longevity (he's in his late 80's as of 2012) but really it's due to the quality of music he has put out. If you've never heard The Thrill Is Gone or Every Day I Have The Blues you've missed out on some blues classics. But if you get a chance listen to his early stuff from the 1950's. That's when he was at his best and playing over 300 shows per year.
Eric Clapton
Eric Clapton plays many styles of guitar. And to be honest, I think he's a better song writer than blues guitarist, but he is probably responsible for bringing more blues fans to the blues than any other artist. I know that was the case for me. When I first started listening to him in the late 60's with Cream, and then explored his history and love of the blues, he led me to many of the great blues artists of all time. In fact, he's was only one of the many British musicians who shared their love of the blues with America and in many ways brought us back to ourselves and our own amazing blues creators from the Mississippi Delta, particularly Robert Johnson. Cream's re-interpretation of Cross Roads Blues (called Crossroads by Clapton) did more to bring Robert Johnson't story and music to the world than anyone else. And an amazing story it is.
Stevie Ray Vaughan
Stevie Ray blasted on the scene in the early 80's when the blues was in a mini-revival thanks to The Blues Brothers movie . His energy and emotional playing inspired many, many people to pick up the guitar and you can still hear his influence on guitarists today. His style clearly came from others before him (particularly Jimi Hendrix and Albert King) but his clean playing and obvious playing ability was what carried him to make everyone's list of great blues guitarists. Whether his status will continue is yet to be seen.
Muddy Waters
McKinley Morganfield was an actual Delta county blues guitarist before he moved to Chicago in 1943 and began to change the blues. He took his country blues style and added electricity to it and a new style of blues was born. Of course, he didn't invent electric blues he just made it great with the help of his great band including Little Walter on harp, Jimmy Rogers on guitar, Elgin Evans on drums, and Otis Spann on piano, and Willie Dixon on bass (although he was not part of the regular band). If course if it wasn't for the great songs he played (many written by Willie Dixon) he never would have gotten as popular. Muddy and his music still remains the high water mark for the Chicago Blues sound and style.
Buddy Guy
Buddy Guy also came to Chicago from the Delta and worked his way into the Chicago Blues scene. He played with many bands and other artists, particularly harp player Junior Wells, and today is ubiquitous as essential Chicago Blues guitarist. He plays with everyone and is a regular on the blues festival circuit.
Freddie King
A Texas based blues guitarist, Freddie King was a big influence on Eric Clapton and many of the more British, rock and roll guitarists of the 70's. His classics Hideaway and Goin Down were in every American blues guitarist set lists at one time or other.
Robert Johnson
If not the best of the Mississippi Delta Country Blues guitarist he was certainly the one with the best PR. His rumored "deal with the devil" for his talent is a classic, and although it may not be true, it makes for a great story. That combined with the fact he got many of his songs recorded before he died at age 27, plus his itinerant lifestyle, led to many later guitarists thinking of him as the father of the blues, and the blues lifestyle.
Jimi Hendrix
I'm not sure if Jimi thought of himself as a blues guitarist but he sure did record some classic blues music. His song Red House turned many a hippie on to the blues and Little Wing is still played by many guitarists in the blues category (mostly because of Stevie Ray Vaughan's version). There's no disputing his amazing ability to play the blues and I bet people will be coping his blues licks for years to come.
John Lee Hooker
Inventor of the boogie guitar style, John Lee was another big influence on the guitarists of the 60's both English and American. His classics Boogie Chillin, Boom Boom, and House Rent Boogie brought the talking blues style to prominence. And though he came from the delta his style really was all his own and totally original for it's time. Again, people will be emulating and playing his songs for a long time.
Albert King
Albert was born in the same town as B.B. King. If that's not an amazing coincidence than nothing is. Yet his style was really all his own. Although from the Delta he moved early and often and ended up in Gary Indiana during his best years. He would be associated with Chicago blues but his style was always more modern and a bit funky. His classis "I'll Play The Blues For You" epitomizes his spare yet powerful style. You can hear his style in everything that Stevie Ray Vaughan plays.
Son House
An authentic Delta Blues guitarist Son House was part of the early tradition and was reported to have learned from Charley Patton and Henry Sloan while living at Dockery Farms, a cotton plantation in northern Mississippi, roughly in the early 1920's. Although an excellent slide guitarist his strength was his vocals and powerful singing style.
Johnny Winter
Johnny Winter was one of those 60's musicians who brought the blues to white America. I remember seeing him in 1968 while in college when he was quite popular. His slashing slide style and frenetic stage presence definitely got your attention and he was widely known as one of the first white guitarists who play the tradition Chicago style well and accurately. Again, one of those who brought many white people to find the blues.
Duane Allman
One of my personal favorites, Duane has always been a big influence on me. His band The Allman Brothers Band mixed blues, rock and jazz in a way that was unheard of in its day. Duane introduced me to T-Bone Walker with his introduction of Stormy Monday from the Live At Fillmore East, still one of my all-time favorite albums. Stormy Monday and Blind Willie McTell's Statesboro Blues and Sonny Boy Williamson's One Way Out were my introduction to these artists and how great blues could be played. His slide guitar playing is still the ideal of the best slide guitar (short of his reincarnation Derek Trucks).
T-Bone Walker
T-Bone was a monster in his day during the 40's and 50's. He was a major influence on all blues guitarists who came after him. Chuck Berry even admits that he was a big influence on him and his stage antics. T-Bone's spare style is so unique it's very hard to duplicate, or to learn. He leaves plenty of space and his phrasing is unusual yet perfect for the songs he plays. His classics Stormy Monday Blues and T-Bone Shuffle will be played for a long time to come.
My Personal Favorites
Albert Collins
One of my personal favorites, Albert Collins "The Ice Man" came out of Texas with a unique and powerful style. Playing very sparse in various tunings using a capo gave him a individual style on such tunes as Mastercard, Frosty, and my favorite I'm Not Drunk, I'm Just Drinkin'. I still remember him playing a club and walking all around inside and outside the club. His guitar chord being reeled out by the roadie form a large spool until it was hundreds of feet in length.
Ronnie Earl
Ronnie Earl (real name Ronald Horvath) is a Boston-based blues guitarist who played with Room Full of Blues after Duke Robillard left the band. Not widely known by the average blues fan, he is a perfect example of someone who took the traditional blues he found by T-Bone Walker, Magic Sam, and others and made it his own. His powerful, yet sparse playing is an example of someone who has taken the lessons of the past and brought it to a new level in his own image.
Robben Ford
Although better known as a jazz player with Miles Davis and Joni Mitchell with L.A, Express, Robben comes out of the blues tradition and was playing in the Charles Ford Blues Band when he was only 18. In the early 90's his albums were a big influence on me and his jazzy blues style is still a favorite with any dedicated blues guitarist, especially me.
Of course the list could go on and on. I have some favorites that have been a big influence that aren't on this list. I'm sure you have some too. Let me know about yours.

Click To Watch A Free Lesson