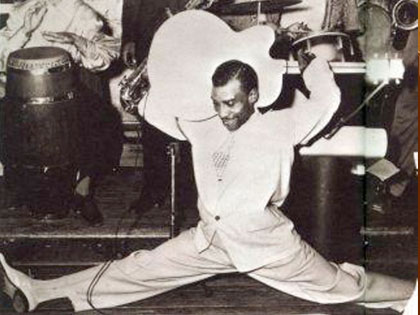 It's pretty common knowledge that many Delta area bluesmen and women made the trip north to Chicago during the 30's and 40's. Some just needed to "get out of town" and many others needed to find a new place to find work. That's how Chicago Blues got started and that's exactly what happened to Muddy Waters, Howlin Wolf, Albert King, and many, many others.
But less well-known, and just as important, is the fact that many bluesmen moved from the south, and particularly Texas, to California to live and work. The attraction was plentiful jobs in the airplane industries and the war industries of the of the 30'sand 40's.
This journey brought the greats like T-Bone Walker, Charles Brown, and Amos Milburn to the Los Angeles area. It eventually brought others like Lowell Fulson, Big Joe Turner, and Pee Wee Crayton to the west as well.
The style was originally heavily jazz influenced with plenty of piano and sometimes horns in the arrangements. But harp and guitar were big too, a la T-Bone Walker, if perhaps not as critical as in Chicago Blues. The jump blues style of Big Joe Turner was probably the most dominant style through the 40's and early 50's. And it sure had lost of elements of swing as well.
Over the years, guitar and harp took on a bigger role and in the last 20-30 years people like Rod Piazza, Kim Wilson, James Harmon, Duke Robillard and Hollywood Fats are most identified with the style.
Yes still many people associate jazz guitarist Wes Montgomery with the West Coast Blues sound, though I doubt many blues purists would agree. Still his smooth, swinging style does fit in with the West Coast sound.
And if the average blues listener gave a listen to a West Coast Blues band they may have trouble picking out just what makes it West Coast. The differences are subtle, and unless you have a deep understanding of the origins of blues music, it would be easy to say 'it's just jazzed up Chicago Blues.' It would be hard to argue with them.
But for a sophisticated blues aficionado the differences would be apparent if not obvious. Chicago blues is a bit more "downtown" or even "down in the alley," where West Coast Blues has a distinctly "uptown" feel. It swings more and arrangements are more "horny" and jazz like, even when a harmonica is involved.
But in today's blues world many bands mix styles and play a variety of blues styles. I know my own band likes to move uptown, downtown, and back in the alley freely, and we spice our sets with a touch of every style we like.
Why? Just because we love the music and we can. I think many other contemporary blues bands do the same thing.
Also there is a definite Texas-California connection as well. Texas Blues and West Coast Blues may be the closest of blues styles and I can picture a "taste-great – less-filling" argument that a blues lover would have when they argue whether The Fabulous Thunderbirds are "West Coast" or "Texas" blues, even though they hail from Texas.
Who cares really. All I know is I love the style and can't get enough.
Origins
When T-Bone Walker moved to Los Angeles from Texas in the mid 1930's he was just looking for better opportunities and a place to play his music. He didn't know it would begin a new style of blues. He perfected his style in the clubs around Los Angeles and by the 1940's, when Walker was in his 30's, his career and song writing were in high gear.
But T-Bone was not alone. Many others followed him west around the same time including Texas born pianists Charles Brown and Amos Milburn, and Oklahoma native Lowell Fulson.
But the main reason all of these "out-of-towners" found work was a bill passed by President Franklin Roosevelt in 1941.
Executive Order 8802 prohibited racial discrimination in government war contracts. Millions of blacks streamed into California where many of the war's planes and boats were being made.
This movement was part of the Great Migration, as it would be called, that took millions of blacks out of the fields of the south and brought them to northern and western cities during the 30's, 40's and 50's. They brought with them their love of the blues and therefore kept the blues greats of West Coast Blues working and developing their music.
West Coast Versus Chicago Blues
To try and compare the sound and style of West Coast Blues to Chicago Blues is almost silly. And any statement I make would be easy to refute. They really are very similar. But there are a few glaring differences.
Chicago Blues Uses Slide Guitar More
In Chicago Blues the slide guitar is almost ubiquitious. Muddy Waters, and even earlier, Elmore James got that tradition started. And yes, I guess this just proves that Delta Blues was probably closer to Chicago than the West Coast version. I don't think I've ever heard any of the "pure" West Coast bands ever use a slide guitar.
West Coast Blues Uses More 9th Chords
With the West Coast style being jazzier, you tend to see more of the 6th and 9th chord being used. I don't think I've ever seen Muddy Waters play a 9th chord, or many of his guitarists for that matter. It's clearly more of a 7th feel in Chicago Blues.
The Grooves
Rhythm is a defining characteristic for any music. The classic Chicago Shuffle is called that for a reason. And certainly West Coast Blues has a lot of that type of groove. But the West Coast Shuffle just seems to swing a little bit more and a little bit differently. It's subtle but it's there.
Sophistication
OK this is a very subjective point and I'm sure many would disagree. I think there is a bit more sophistication in West Coast Blues. What do I mean by sophistication? Well in addition to the chording and the jazziness, I think the interplay between band members and particularly the drumming is at a slightly higher level on the West Coast.
West Coast Blues Gets Modern
During the 70's and 80's many young lovers of West Coast Blues were also beginning to play in the west. California native guitarist Hollywood Fats and harp player/singer James Harman, played together in James Harman's band and put out some of my favorite West Coast Blues. Their bands jumped and swung and rocked and had a great energy while still honoring the blues that came before. Unfortunately there's not a lot of videos of them to catch. Thankfully there are some great discs to be had.
Their great album "Extra Napkins" and their followup from the same session, "Mo' Na'kins Please", is a classic of West Coast Blues to me. The instrumentation and Hollywood Fat's guitar sound, piano, and harp playing the role of horns, define the genre and was it's high-water mark in my mind. Kid Ramos is also on the album.
Here's an example of James Harman and Hollywood Fats in action.
James Harman Band – with Hollywood Fats
There were many bands like this out west during the last 30 years. Another favorite of mine is Rod Piazza and the Mighty Flyers, who also have the swinging, jumpin' style that epitomizes West Coast Blues.
Rod Piazza and The Mighty Flyers – Southern Lady
And don't forget Duke Robillard who was the founder of Room Full of Blues and took his style directly from T-Bone Walker himself. He offers some great instruction these days and you see some of his free videos here.
Duke Robillard – Blues For T-Bone
So West Coast Blues is a great style of the blues. If you aren't hip to it yet this is your opportunity to learn about some great new blues licks. Here's a TrueFire.com video that will get you started.
Click To Watch A Free Lesson