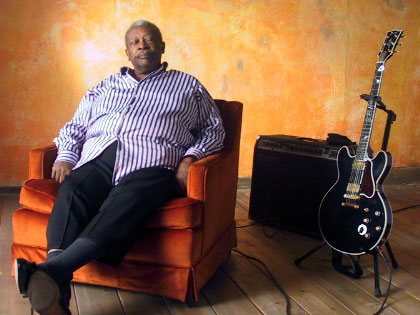 Now to try and divide the blues into very specific categories is almost silly. The blues "feel" and the blues "tonality" is really everywhere. All types of music have it, and most "blues bands" play a range of styles. It's hard to define a style as any one "thing" or to put anything into just one category.
But who can argue that the blues coming out of Chicago and the blues coming out of New Orleans, or Los Angeles, doesn't have it's own "feel". Sure there's a big crossover within these categories. Texas blues sure has a lot to do with Chicago blues, but it's also a little different.
And there is a geographical factor. As The Blues moved from it's birthplace in the Delta to other parts of the country it mixed in with what was already there. This was natural and inevitable. That led to different styles being associated with different parts of the country. So be it.
What Types of Blues Do You Like?
Please fill out our poll to let us know your favorite type of blues. Go here to fill out our short survey.
So having said that, let's try to do the impossible, and give a bit of a description for each of the different kinds of blues as they are commonly defined today.
Delta Blues
This is where it all got started. Certainly Delta Blues is defined by being pretty much acoustic in nature. When you think of Delta Blues or Country Blues you usually think of one person, usually a man, sitting and playing guitar by himself. Certainly the most common blues guitarist that fits this description is Robert Johnson. You also have Charlie Patton, Skip James or Son House who define this style. Of course there are many others.
And of course, the truth is blues musicians that came out of the delta played more than just guitar. There were harmonica players and pianists and some who played home-made instruments. Plus some played together as well. It's just that when they got recorded they often were alone. So this stereotype is not really the way it was.
Today, Keb Mo would probably be the best known of the modern Country Blues/Delta guitarists. He certainly fits the description even though he's from no where near the Delta. You also have, Corey Harris and R. L. Burnside. But again there are many others.
Delta blues was at it's peak in the 20's and 30's when many of the above worked as share croppers and cotton pickers around Clarksdale Mississippi and Helena Arkansas. Many lived on plantations that were run by owners who sometimes embraced the music and sometimes didn't. Dockery Farms was one plantation where Charley Patton, Son House, and Robert Johnson all spent some time. Most traveled all around the area and it's hard to pin down exactly where they picked up the guitar. Dockery Farms is now a museum dedicated to Delta Blues and the history of the area.
Son House – "The Death Letter"
Chicago Blues
When many of the Delta musicians moved north to Chicago they took the blues with them. Many were said to migrate north in search of better jobs and an easier life. Some hooked up with family that were already there or found like interests on the south side of Chicago where they lived. There were many clubs that were looking for musicians to keep the locals entertained so there was a ready market for their music.
Muddy Waters was one of these who took the blues with him north. He had already been recorded as a Delta musician by Alan Lomax, and that gave him a lot of confidence. But when he got to Chicago his blues got "urbanized" and electrified and he translated that Delta style into a whole new type of blues. This style was still raw and simple but with drums and distorted guitars, this new blues fit the city and was accepted by the city folk that lived there. His first Chicago hits, "Gypsy Woman" and "Little Anna Mae" convinced him he could do it. He began recording for Chess Records in the early 1950's and had a string of hits in the 50's with the help of bassist Willie Dixon's great original songs.
What made Chicago Blues unique was the energy in the music. The louder volume was required to be heard in rowdy Chicago clubs. This added distorted electric guitars and harmonicas to the mix and when his premier band, with Little Walter on harp, Jimmy Rogers on guitar, Elgin Evans on drums, and Otis Span on piano, came together, they defined what a great Chicago Blues band should sound like. That was in the early 50's and not much has really changed since then. Bands today still try to capture that raw yet extremely tight sound that Muddy's first bands had. They probably always will.
Lot's of other bands were based in Chicago through the 50's and 60's and along with Muddy, Howlin' Wolf, Otis Rush, Magic Sam, and Buddy Guy, and others, came to epitomize the Chicago Blues sound. Many can be seen on the American Folk Blues Festival

videos available.
American Folk Blues Festival – 1962
This is an amazing historical document that shows the Chicago blues greats like Sonny Boy Williamson, Hubert Sumlin, Sunnyland Slim, Willie Dixon, Victoria Spivey, Lonnie Johnson, Otis Spann, Matt Murphy, Roosevelt Sykes, Sonny Terry, Brownie McGhee, Howlin' Wolf and many others. These are some amazing performances.
Muddy Waters – "Can't Lose What You Never Had"
Muddy Waters – "Got My Mojo Working"
Memphis Blues
Certainly Memphis Blues may be more of a mix of other blues styles than Delta or Chicago blues. With Memphis already having an entertainment tradition on Beale Street, when the blues came to town it just added the style to the gumbo that was already there.
Memphis was home to a range of entertainers including those that played vaudeville style, country style, and jug band music. Jazz was already there as well. So when blues arrived it took on many of these other styles as well.
Many of the musicians mentioned in Chicago started in Memphis as well. Howlin' Wolf, Sonny Boy Williamson, and Ike Turner all played in Memphis at some time or other and left there mark.
Of course, the best-known Memphis blues man is the Beal Street Blues Boy himself, B.B. King. He came up form the Delta more than once to try and make it in music in Memphis. He eventually got steady work and had a show on the West Memphis station WDIA which was his real big break.
And just as B.B. King's blues style had a bit of urban jazz mixed in, the type of music that was popular in Memphis was a little more sophisticated and a bit more "uptown." But it's hard to claim any one style for Memphis Blues. Whatever the people liked is what was popular and being played by the musician's there.
And Albert King did most if his rocording in Memphis for Stax Records, even though he was out of Chicago as well. But his style covers a lot of ground anyway.
B.B. King – "Sweet Sixteen"
Kansas City Blues
Kansas City was a hotbed for jazz as early as 1920. With Kansas City being such a hub for travel all over the country, musicians would come from anywhere and share the music they brought with them. Certainly jazz was part of that, and people like Count Basie and Charlie Parker left their imprints. But KC jazz always had a bluesy, groovy feel to it. Count Basie being the best example.
But the impact Kansas City had on the blues was probably most exemplified by Big Joe Turner and Pete Johnson and their styles which later was called "jump blues." This would lead to later styles like 40's Rhythm and Blues and even later to Rock and Roll.
This very danceable blues always had a big beat and often a big band with horns and arrangements. It certainly was a cross between blues and jazz and if you had to name the classic Kansas City "blues sound" it would be this sophisticated jumping blues, with lots of piano and horns, that got people up on the dance floor. It also had elements of swing as well and again the musical styles all cross-pollinated and lead to music that was hard to pin down to any one name.
Whatever Kansas City brought to the blues table, it was welcome, and to me, one of the styles of blues I love the most.
Jimmy Rushing with The Count Basie Orchestra – "I Left My Baby"
New Orleans Blues
Clearly New Orleans was the birthplace of jazz. Everyone agrees on that. But the blues tradition is a little harder to pin down.
It's easy to imagine delta musicians heading down river into New Orleans and bringing their guitars with them. What happened after that is a little harder to say. Certainly the rich musical tradition that was already there was bound to influence them. And if they tried to get some work in N'orlins they probably had to play a bit of what the locals wanted to hear. They probably got pulled into the Gumbo just like all the other jazz, cajun, and vaudeville musicians.
Certainly some blues guitarists stand out including Guitar Slim, Snooks Eaglin and Earl King, but none of these were heavily identified with a New Orleans sound.
If anything, today, the New Orleans blues sound is a mix of blues, funk and almost second line grooves, that border on rhumbas. Or at least rhumbas as defined by a blues musician. It's still a gumbo and it still reeks of soulful expression and emotion. It seems you can always smell a bit of Professor Longhair and Dr. John in every New Orleans blues song.
Dr. John – "How Come My Dog Don't Bark When You Come Around?"
Texas Blues
Another of those blues styles that is hard to pin down to one thing. Certainly Texas Blues has a lot of Chicago Blues in it but it also has a touch of rock and roll too.
If Stevie Ray Vaughan is the first thing people think of when they say "Texas Blues" it's not because of any particular style that he played. He covered a lot of ground It may be more about his attitude than anything that makes him a "Texas" guitar player. He played with an energy and an abandon that certainly said… "Don't mess with Texas."
Starting with Freddie King "The Texas Cannonball", one of the first great blues guitarists out of Texas, that energy and style may exemplify the Texas sound. There does seem to be an attitude they all share. Along with King, were Texas blues guitar giants like Lightening Hopkins, Blind Lemon Jefferson, T-Bone Walker (later identified with West Coast Blues), Johnny Winter and Albert Collins.
Today others like The Fabulous Thunderbirds (Jimmy Vaughan's old band) and Anson Funderburgh and The Rockets, offer energy but with a bit more relaxation included. They have evolved the Texas sound to one of style and sophistication. They carry on the tradition but also have their own thing to throw into the mix.
I guess you could say Texas Blues is a lot like Texas itself. It's big and covers a lot of ground.
Stevie Ray Vaughan – "Pride and Joy"
West Coast Blues
West Coast Blues has the reputation of being sophisticated and jazzy. Clearly the style was combined with a dash of Texas Blues and a touch of Kansas City Blues thrown in as well.
Probably Jump Blues would be the main style associated with the West Coast Sound but it's not the only style. If you said that T-Bone Walker only played jump blues you'd be wrong. But he is the leading originator and the main name mentioned with the style. And he was from Texas, if that tells you anything.
Like much of what we associate with California, the West Coast sound was probably brought from someplace else. It has evolved to be it's own smooth, jazzy style with an edge but always with that smoothness. Horns and piano also dominate the sound along with smooth, groovy rhythms. And those jazzy guitar chords are always there as well.
Another names associated with the sound are Charles Brown (he came from Texas too) and Rod Piazza and The Mighty Flyers, Percy Mayfield, Pee Wee Crayton and Lowell Fulsom.
Rod Piazza and The Mighty Flyers – "A Little Southern Lady"
Piedmont Blues
Really a country blues style that was a very early rural blues form, Piedmont blues is primarily associated with a finger-picking style of guitar playing that was entirely unique to the Piedmont area of East Coast.
Actually it came from the ragtime tradition and the guitar picking technique may have come from banjo playing and stride piano stylings.
Blind Blake and Reverend Gary Davis are the best know of the players but many guitarists came out of the rag time style of guitar playing. These include Josh White, Blind Boy Fuller, Pink Anderson and today Roy Book Binder.
Roy Book Binder – "Candy Man"
OK That's It… sort of
Well that's the major styles of blues. Of course, many intermediate styles could be defined and some would argue that there are distinct styles in Canada and New York and "the Mississippi hill country." But that's my take on it. Feel free to comment. Your suggestions and comments are always welcome.
Good Books About The Blues
I've read all of these books and can recommend each of them… for different reasons. But together they give you the complete picture of The Blues and where it came from.
Click To Watch A Free Lesson