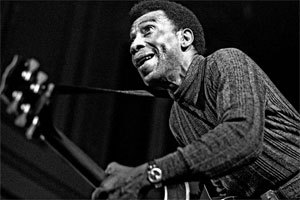 Who would have guessed that the government, and particularly the president, would help the blues spread to the West Coast? But that's exactly what happened with Executive Order 8802. It may have even spawned a particular style of the blues.
The fact is, T-Bone Walker, Pee Wee Crayton, Lowell Fulson and thousands of other blacks, relocated to California in the 40's because of this order by President Franklin Roosevelt. Here's basically what his order was all about…
"Executive Order 8802 was signed by President Franklin D. Roosevelt on June 25, 1941, to prohibit racial discrimination in the national defense industry. It was the first federal action, though not a law, to promote equal opportunity and prohibit employment discrimination in the United States.

The President's statement that accompanied the Order cited the war effort, saying that "the democratic way of life within the nation can be defended successfully only with the help and support of all groups," and cited reports of discrimination:

There is evidence available that needed workers have been barred from industries engaged in defense production solely because of considerations of race, creed, color or national origin, to the detriment of workers' morale and of national unity.

The executive order was issued in response to pressure from civil rights activists A. Philip Randolph, Walter White, and others involved in the March on Washington Movement who had planned a march on Washington, D.C. to protest racial discrimination. The march was suspended after Executive Order 8802 was issued."
So blacks streamed to California looking for work in the defense plants around Los Angeles, many from Texas. They needed entertainment after work so many clubs were born because of this new migration. The migration included many black bluesman including Walker, Crayton, and Fulson and so West Coast Blues was born.
West Coast Blues Sound
The West Coast Blues sound drew a lot from the rhythm and blues of the times and included lots of showmanship and danceable numbers. It drew from swing, jump blues, and boogie woogie styles. And you can't leave jazz out of the mix.
Today guitarists like Duke Robillard, Clarence Gatemouth Brown, Albert Collins, Johnny Guitar Watson, and Hollywood Fats all exemplify this smooth, rhythmic style of the blues, that has lots of expanded harmonic nuances influenced by jazz players like Charlie Christian and Wes Montgomery.
Other Texas bluesmen followed including pianist/songwriter Amos Milburn, singer Percy Mayfield, famous for the song "Hit the Road Jack", and Charles Brown, famous for many great blues songs. They all moved to Los Angeles. Guitarist Pee Wee Crayton divided his time between Los Angeles and San Francisco, while Lowell Fulson, from Texas by way of Oklahoma, moved to Oakland.
Learning West Coast Blues
TrueFire.com has a great class on West Coast Blues guitar playing. As they say on their website…
"So many of the blues licks we play today, which we've copped from our current and previous generation blues heroes, are actually rooted back to jump and West Coast blues phrases – especially the tasty ones! We all pretty much agree that implying changes, as opposed to just blowing pentatonic runs, is what separates the men from the boys when soloing over standard blues changes. Implying changes, targeting tones, applying extensions are key elements of the West Coast style and good reason enough to study the genre. But there's more."
This style is one of my favorite styles and perfect for a blues guitarist who's ready for some more advanced playing. I love the TrueFire.com online classes and this one is one that I keep going back to for new ideas and licks.
Here's a Great Video from TrueFire.com
Click To Watch A Free Lesson