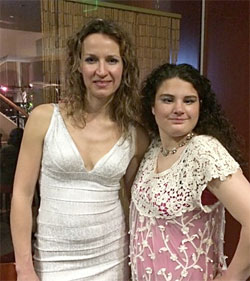 My name is Reyna Taylor and I want to share with you my Blues experience.
The first time that I listened to the blues was some music from my all-time favorite female Blues guitarist, Ana Popovic. The first blues that I heard by her was from her new song, 'Can You Stand the Heat'. She's over-the-top a great singer and guitarist. I've just met her in San Francisco on February 9th of this year. She played at a restaurant called Yoshi's, a Japanese restaurant. I also told her that I'm a big blues fan of her's. I also told her that I'm playing the blues because of her.
She told me, "Oh, that's great, c'mon lets have a photo together" and told me to keep playing the blues. She was very kind and gracious to take a picture with me.
This was also a special nite for me cause this was my belated birthday/Christmas present. My parents flew me to San Francisco just to see Ana. God made it all possible because of His Grace and His love. I want to thank Ana for putting on a great show for us, my parents because I love them so much, and most of all, God cause He answers my prayers a lot and He loves me a lot.
Thanks, Reyna

Click To Watch A Free Lesson