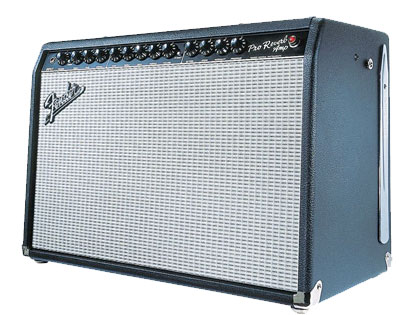 This amp was only offered for a few years back in the late 90's and early 2000's. You can't buy it anymore. Not sure what that means but I liked it when I was using it. I bought it in around 2002.
This is the amp I used for about 4 years in the early stages of my Honeyboy Band, from roughly 2002 to 2006. You can hear it on my album Live From The Hive here on my band website.
I only stopped using it because I got sick of carrying it around (it weighs 75 pounds). I now use my Super Champ XD exclusively.
What I Like
Great versatility while still having that great Fender clean tone.
The overdrive channel sounds great but is a bit "over the top" when cranked. I had the gain on 2-3 most of the time.
It sounds great with a Tube Screamer on either channel.
What I Didn't Like
It was too heavy (75 lbs) for this old guy
It sometimes made noise but that's probably because I wheeled it around too much. Tube amps don't like being wheeled around on asphalt and bumpy surfaces. Tubes can't take it and need to be treated gently. I learned that the hard way.
Amp Features (Musician's Friend description)
All-tube 50-watt combo amp features tube reverb and tremolo.
12″ Jensen C12N driver beautifully projects the crystalline tones of the Blackface-style normal channel, and the incendiary lead sounds of the drive channel. 1/4-power switch lets you get full tube warmth at lower volume. 4-button footswitch puts total command at your feet. Part of Fender's first generation of amps with tremolo and high-gain channel switching. Full-featured effects loop.
Features
Fifty watts/all tube
12″ Jensen C12N driver
Normal and drive channels, footswitchable
Reverb and Tremelo, footswitchable
1/4-power switch
Weight 75 lbs
Tubes: Two-6L6GC, Two-12AX7A, Five-12AX7WA, One-12AT7
Manual and cover included
Reviews on Musician's Friend (average rating was 4.5 out of 5 with 10 reviews)
"Great amp with classic Blackface tone in the clean channel and a bit more gritty in the drive channel. Quarter-power switch is a great feature that, while at low volumes isn't too noticeable, makes a big difference when the amp's cranked. Tremolo is good and the tube driven effects loop and reverb are great. Would have been nice if the stock tubes were of a bit higher quality but it's only the 2 12AX7As (reverb and loop drivers) that were disappointing."

"Great tube sound for blues, I had a Hot rod 212 and never got the full rich sound I wanted. This had it from the first note. 1/4 switch has great sound and perfect for band practice."

"Been using Fender amps since early '60s. This Pro Reverb 'All Tube' seems to have the sweet tone ability to get it from my '53 Tele! Two chan – clean & dist. plus 1/4 power, should cover most any gig situation. Nice features in back – bias adj. panel, send/receive, amp in/out, 4-button footswitch. Heavy maple-ply cabinet, and a good ol' Jensen speaker – my sentiments exactly!!"

"The distortion rocks like no other. And with the click of a button the nicest sharpest clean. Plus stunning reverb and great acoustic effects."
Bottom line is I really like this amp but only use it when I have a gig that requires more volume or more presence.

Click To Watch A Free Lesson