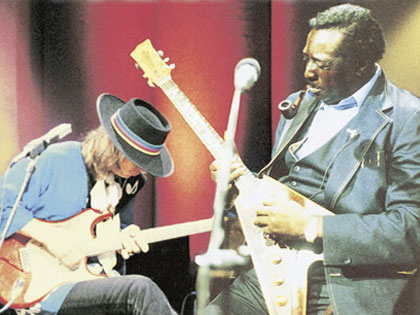 This video is a classic. It shows both Stevie Ray Vaughan, and his idol Albert King, in top form and jammin' in a studio in Ontario, Canada on December 6, 1983. It truly is an inspiration for any blues guitarist. It shows the old-guard and the new guard and you can literally watch "the blues" handed-down to a new generation.
You also get to see just how much Stevie Ray Vaughan was inspired by Albert King and his playing. You begin to realize just how much Vaughan "stole" from his mentor. Not that every great blues guitarist doesn't take from those who came before. But you do get to see the degree to which Stevie licks and Albert's licks are very similar.
This Video
The video was recorded for a series of live television shows recording performances by various artists. The show was called In Session. And besides great musical interaction, there's great verbal interaction between King and Vaughan throughout the show.
Initially, King was not going to do the show. At the time he did not even know who Vaughan was. He did not realize that Vaughan was actually 'little Stevie', the 'skinny kid' that he let sit in when King played in Texas. King talks about this on one of the conversation tracks. When he realized who Vaughan was, he agreed to play.
The album's material is mostly King's concert line up, with one Vaughan cut, "Pride and Joy." King is 'driving' the session, but he purposefully features Vaughan on a number of the songs.
A Great Lesson
For an advanced blues guitarist, this may be one of the best lessons you'll ever get. Each is "jammin" so they are not depending on predefined parts or plans. Each is reacting to each other, seemingly for the first time.
Especially with Stevie, you get to see how he approaches comping behind his mentor. Also, the dynamics they employ throughout the session is a master-class in how it's done. You can watch this video over and over and learn something every time.
Song List For Video
Call It Stormy Monday (Aaron "T-Bone" Walker) – 8:59
"Old Times Conversation" – 1:15
Pride and Joy (Stevie Ray Vaughan) – 5:57
Ask Me No Questions (B.B. King) – 5:02
"Pep Talk Conversation" – 0:51
Blues at Sunrise (Albert King) – 15:08
"Turn It Over Conversation" – 0:51
Overall Junction (Albert King) – 8:19
Match Box Blues (Blind Lemon Jefferson) – 7:38
"Who Is Stevie? Conversation" – 0:43
Don't Lie to Me (Hudson Whittaker) – 8:56
Personnel
Albert King : Electric Guitar, Vocals
Stevie Ray Vaughan : Electric Guitar, Vocals only on Song 3
Tony Llorens : Piano, Organ
Gus Thornton : Bass
Michael Llorens : Drums
I'll let the video do the rest of the talking. The video is over 90 minutes long and I bet you won't be able to take your eyes off for one second.
Enjoy!
Click To Watch A Free Lesson