I've been a guitarist for over 40 years. I've been specializing in the blues for over 15 years.
During that time, playing guitar has been a constant learning process. As I've learned more my tastes have changed. By "learning" I mean being exposed to a wider and wider range of blues guitarists and blues styles. Each time I got turned on to someone new, my journey changed course a little and I had new things to learn.
I bet it's the same for you.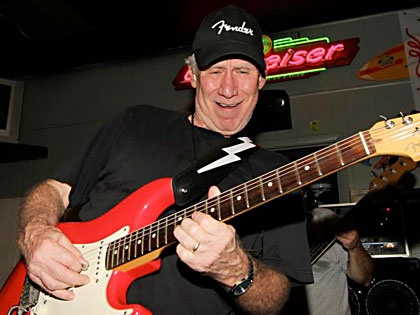 If you love the blues, whether as a beginner or a long time player, you know there's always something new to learn and your musical education is ongoing.
How It All Got Started
I've been in many bands over the years. Usually as the leader or principle singer. My most recent band was called Honeyboy and I go by the stage name Rick Honeyboy Hart. You can hear some of my latest music at my band website www.rickhoneyboyhart.com.
I always loved arranging and writing songs and much prefer the creation process rather than the re-creation process of learning someone else's riffs or parts. That said, I seldom spend a lot of time copping riffs from songs by other people.
Not that I don't love to figure out songs, but I tend to see them from a bigger picture and like to deconstruct arrangements and figure out how the different parts of a song fit together to make a whole that's greater than the sum of its parts.
I didn't start learning the guitar seriously until I was 21. Before that I was a big music lover and listened to a lot of music, but never got around to picking up the guitar. Finally in college, I decided of all the things I loved, music was #1 so I better start learning how to play myself. It was the only thing I really wanted to do.
I was a fan of all the 60's bands including the Beatles, Rolling Stones, Led Zeppelin, Eric Clapton and Cream, Bob Dylan, The Doors, and the various soul songs from Motown and Stax. After awhile I began to realize that most of the influences for these bands came from earlier music, particularly rhythm and blues and particularly blues. I further found out upon closer examination that even the early rock and roll I listened to by Elvis and Dion and Eddie Cochran was influenced by blues recordings done a the same Sun Studios where Elvis cut his first tracks.
Anyway… one influence led to another and I realized that if I had to pick one type of music to listen to, it would probably be the blues.
But the blues covers a lot of ground so I had a big palette to choose from. And I liked them all. Whether you were talking about Chicago Blues by Muddy Waters or Jimmy Reed, or New Orleans blues by Dr. John and Guitar Slim or West Coast Blues by T-Bone Walker and Charles Brown.
And that's just a quick sampling. The more I explored the blues the more I found other styles I loved too. Finding jump blues by people like Louis Jordan and Wynonie Harris and the country blues styles of a Keb Mo or Robert Johnson was a joy and also a big eye opener.
And as I learned to play these styles and incorporated them into my repertoire over the years it's been a gas and I've never got bored by the blues. I hope your journey is as fun and varied as mine has been, and I hope I can help you find some new back roads to travel here on my website. We can take this blues journey together.
Please let me know if you have any comments of suggestions. I'm always looking to hear your thoughts. You can contact me here.
Here's a video from me and my band at a recent gig.
Click To Watch A Free Lesson